Heavy Equipment Overweight
Sector Outlook
Continued strong growth of heavy equipment sales
After seeing a 6% growth in 2016 units to 6,554 units, Indonesia's heavy equipment sales volume is back to double digit growth in 2017, growing by 65% to 10,637 units . The strong growth continued this year as in 8M18 heavy equipment market saw a 32% YoY growth to 9,470 units sales volume. This is in line with the rapid growth of the industrial sectors that use heavy equipment particularly the mining, agribusiness, construction and forestry sector. Sales to mining sector saw the highest growth in term of unit volume and share. Mining machinery sales volume was at 5,020 units in 8M18 or growing by 37% YoY as strong increase in coal prices (30% YoY to USD104/ton) and recovery in nickel prices have boosted demand for mining machinery. Mining machinery market share also improved significantly from 50% in 8M17 to 53% in 8M18.
The second largest volume was sold to construction sector of 1,989 units (21% share) and grew by 26% YoY on still robust infra development in Indonesia. Agro sector booked the highest volume growth of 41% YoY to 1,515 units despite average CPO price down by 15% YoY to USD2,357/ton in 9M18, but two largest CPO companies under our coverage still registered 11% volume growth. Heavy equipment sales to forestry sector were also solid in 8M18, growing by 10% YoY to 993 units, which we believe it was mostly driven by higher solid pulp price (+25% YoY to average at USD1,029/ton in 9M18). We also found heavy equipment scarcity in Indonesia where current backlog order in two big distributors namely UNTR (Komatsu brand) and HEXA (Hitachi brand) has reached October 2019.
Exhibit 42: Indonesia's heavy equipment sales by sector as of 8M18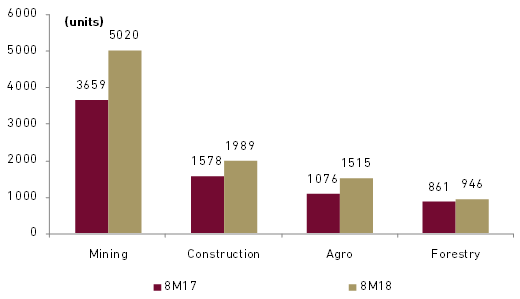 Source: AEMR
Komatsu remains the top popular brand
Pertaining to market share, we see Komatsu market share relatively stable at around 35.8% in 8M18 (vs 36.0% in 8M17) which we believe was supported by higher mining machinery sales which has been its dominant product. Caterpillar held second position with market share of 16.2%, which was supported by strong sales of rigid dump truck and rawel dozer to mining sector.
Hitachi saw a decline in market share from 17.6% in 8M17 to 15.8% in 8M18 which we believe due to very strong backlog order that force its customers to wait until October 2019 for delivery of big machinery especially giant mining excavator and rigid dumptruck. Kobelco enjoys a strong demand from construction sector especially for small-to-medium excavator used in construction field. Kobelco is more aggressive in term of pricing and payment terms. Kobelco was now ranking 4th in Indonesia's heavy equipment sales with 14.2% share in 8M18 (vs.12.8% in 8M17). We also witness Korean-made excavator and wheel loader makers benefit from strong demand and scarcity of heavy equipment supply in Indonesia. Doosan and Hyundai ranked no five and six with respective market share of 3.8% and 3.2%. The remaining volume were shared by other brands (Volvo, JCB, Terex, Liugong , Liebherr and others)
Exhibit 43: Heavy equipment sales by brand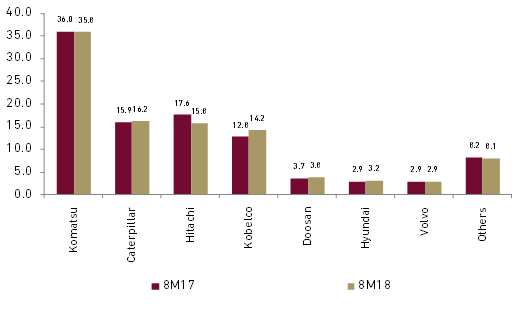 Source: Ciptadana and AEMR
Expecting solid heavy equipment sales to continue in 2018, remain Overweight
We are expecting an uptrend in domestic sales of heavy equipment to continue in 2019. We maintain our positive view on the sector given sustained Newcastle benchmark high coal price should be supportive for demand. We expect coal price to remain high at USD98/ton , slightly lower than 2018's average of USD104/ton. We believe solid backlog order until October 2019 for mining equipment as miners need to increase production and replace ageing equipment will support our view. We foresee 10% YoY increase in national heavy equipment sales to 15,455 units for 2019 from 14,041 units this year. Recall that heavy equipment demand reached almost 15,000 units when coal price averaged USD96/ton in 2012.
Exhibit 44: Correlation between heavy equipment sales and average benchmark coal price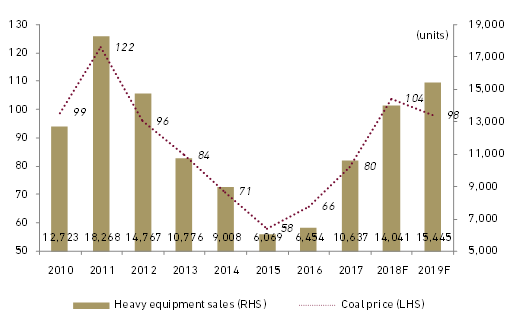 Source: Bloomberg, AEMR and Ciptadana Sekuritas
Given the above outlook while we see heavy equipment demand continues to remain strong with limited inventory so far, we reiterated our Overweight stance on the sector. We only cover UNTR in the heavy equipment space with TP of Rp46,000 and Buy rating due to attractive upside potential and favourable coal price outlook which will affect around 80% of its earnings.
Exhibit 45: Heavy equipment stocks rating and valuation

*Bloomberg consensus