Plantation Overweight
Sector Outlook
Palm oil : the world's largest consumed vegetable oil
As seen on Exhibit 164, palm oil is the most widely consumed vegetable oil and is estimated for 2022, the palm oil consumption amounted to over 73.87 mn mt worldwide. Global vegetable oil production is expected to be around 210.29 mn mt in 2022. The most common oil types include palm oil, soybean oil, rapeseed oil and sunflower seed oil. Palm oil is extracted from the flesh of the palm fruit and it is estimated that about 90% of palm oil is used for food consumption, whereas industrial consumption such as cosmetic products or fuel and diesel claim the remaining 10%.
Exhibit 164: Palm oil global consumption percentage reaches 35% in 2022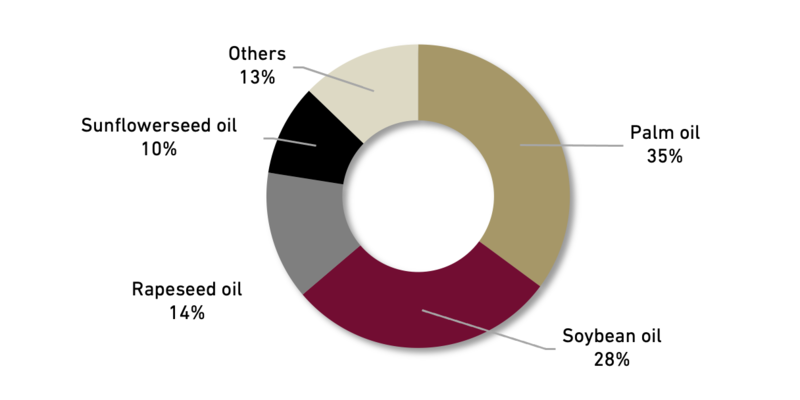 Source : USDA, Ciptadana Estimates
In terms of consumption as a food product, vegetable oils are seen as the healthier alternative as they contain more unsaturated fatty acids than animal fats.
Higher palm oil demand from biodiesel usage
To increase demand for palm oil and increase the foreign exchange reserves, Indonesia plans to raise the amount of palm oil in its biodiesel mix to 40% (B40) soon and expect an additional of 2.5 mn tons palm oil to be absorbed by domestic market with the new regulation. Currently, Indonesia has a mandatory 30% blend of palm oil-based fuel in biodiesel, the highest blending rate in the world.
Exhibit 165: Indonesia's biodiesel index price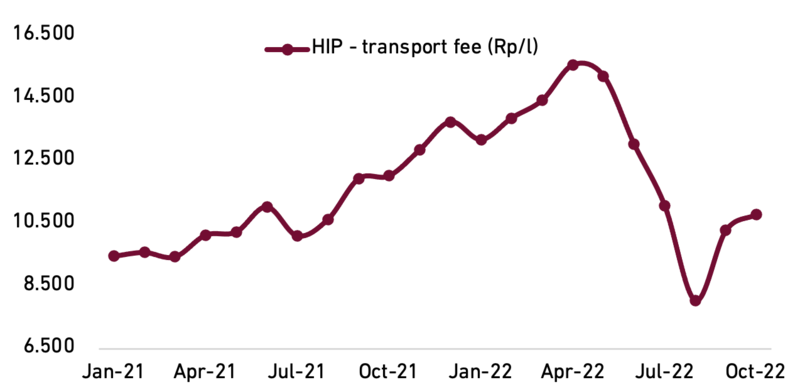 Source : EBTKE, Ciptadana Estimates
CPO fund to offset biodiesel premium over crude oil
To subsidize the gap between cheaper fossil fuel and the biodiesel price, Indonesian Government set up Indonesian Palm Oil Plantation Fund Management Policy (BPDPKS) or CPO fund. The CPO fund is committed to support the oil palm plantation sector as one of the national strategic commodities. In line with the volatility of CPO price, the biodiesel index price (HIP) has been cheaper towards mid-2022 which helped relieved the burden of CPO fund.
The Biodiesel Index Price (HIP) is calculated by adding USD85/ton to local CPO price plus transport fee. For October 2022, HIP was set at Rp10,787/l + transport fee.
Domestic demand still needs a boost as production and export recover
According to Malaysian Palm Oil Board (MPOB), CPO production in 7M22 amounted to 9.84 mn tons, only -0.5% YoY, signaling further yield recovery post harsh weather in 2019. Post pandemic, palm oil exports also improved 0.5% YoY to 8.52 mn tons in the period. However, lower domestic demand in Malaysia contributed to higher palm oil inventory. As of end of July 2022, Malaysian palm oil closing stock still 18.3% YoY higher at 1.77 mn tons which pinned the commodity price as shown in Exhibit 2. Growing inventory posted a threat for CPO price to sustain at high level.
Exhibit 166: Malaysia palm oil statistics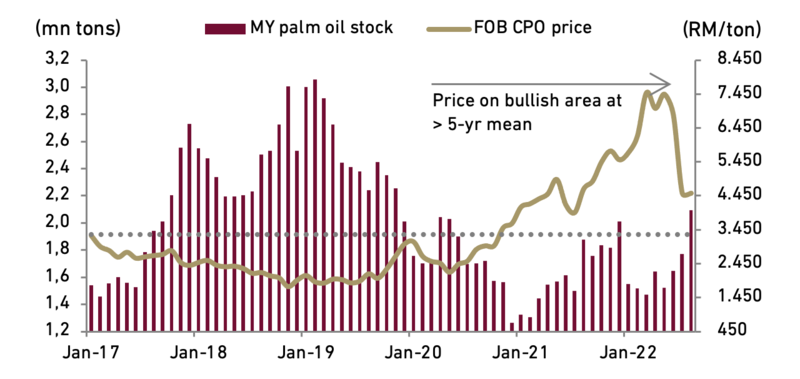 Source : MPOB, Ciptadana Estimates
Global CPO price stay at average RM5,200/ton in 2022/23
Though experienced YoY increase in July, monthly inventory levels in Malaysia throughout 2022 remained below the 5-year average. Therefore, we believe the CPO price will remain at bullish area within 2022/23. We projected that edible oil prices likely to decelerate in the 2H22 as production increases and normalize in the beginning of 2023 post peak harvest. We forecasted the global CPO price in 2022 and 2023 will stay at average RM5,200/ton. Risks to our call include: i) extreme weather in 2023/23, ii) higher-than-expected production recovery and iii) changes in palm oil regulation.
Exhibit 167: Indonesian palm oil statistics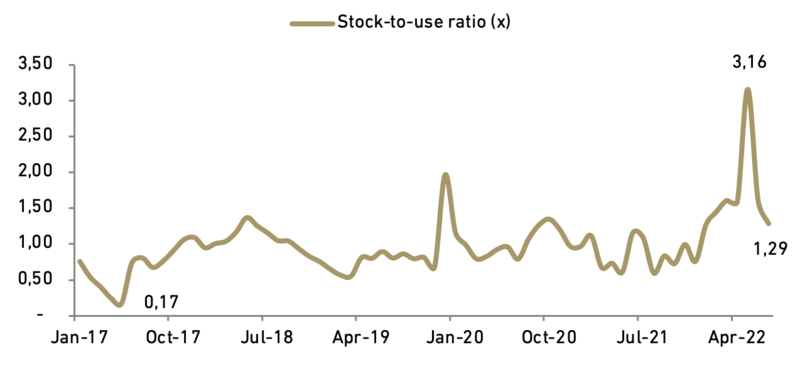 Source : GAPKI, Ciptadana Estimates
Temporary export ban causes inventory build up
Due to rising supply in mid-2022 and a month-long export ban, Indonesia palm oil stocks-to-use ratio increased dramatically from 1.59x in April to highest record of 3.16x by end of May. Fortunately following the reverse of the export ban, the ratio retreated to 1.60x as of June 2022 which hopefully would stabilize the price volatility. We expect the ratio of inventory to overall consumption will remain <2.00x in 2022 and 2023 with no more extreme government intervention to the palm oil open market.
Uptrend in biodiesel usage
Until end of July 2022, Indonesian biodiesel domestic consumption has increased by 26.4% YoY to 5.86 mn L while exports jumped 76.6% YoY to 74 kL, in line with 28.8% YoY higher national biodiesel production to 6.52 mn L. As shown in Exhibit 4, parallel to higher mandatory blending, the biodiesel usage has continued to increase in recent years. We expect the uptrend will remain in 2023 as fossil fuels become less and less favorable with biodiesel gains popularity. Other than reduces carbon emissions, the use of biodiesel also brings positive impact on Indonesian foreign exchange reserves. Currently Indonesia is poised for the B40 implementation.
In Exhibit 168 we can see biodiesel statistic of Indonesia. Both production and consumption gained traction throughout the years, supported by Indonesian biodiesel blending program which continue to increase. As the world's largest producer of palm oil, the Government of Indonesia needs to establish a strong demand for the commodity to balance the need to export. The Indonesian Government allocated biodiesel quota to several domestic FAME (biodiesel component) producers through Ministry Decree, which rises annually to ensure the supply of biodiesel, with one of the companies is Tunas Baru Lampung (TBLA)
Exhibit 168: Increasing production and consumption of biodiesel in Indonesia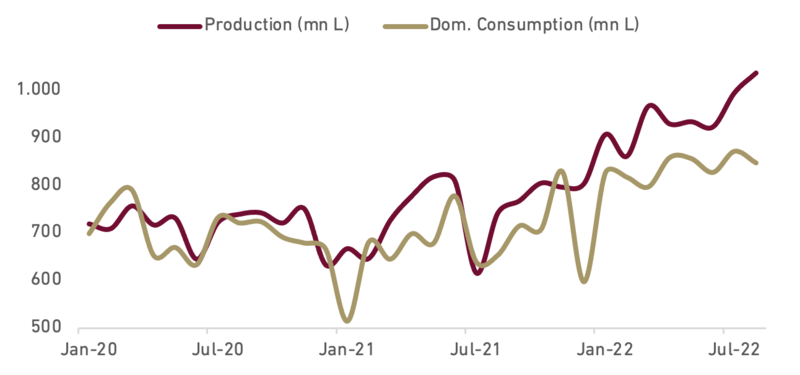 Source : APROBI, Ciptadana Estimates
CPO has competitive advantage of being cheaper than soybean oil
As seen on Exhibit 6, the discount of palm oil price to soybean oil widened since mid-2020 which continue throughout 2022. By the end of September 2022, the price of CPO was USD265/ton cheaper compared to its closest substitute. This should be a positive note for the CPO industry as it should leave an ample room for price increase. For the last 10 years, the average discount of CPO price to soybean oil is USD194/ton, or 26.4% lower compared to latest discount. Though we expect the CPO price will stay flat at RM5,200/ton in 2023, the larger discount should contribute as a bumper to ensure the competitive advantage of CPO.
Exhibit 169: Palm oil price discount to soybean oil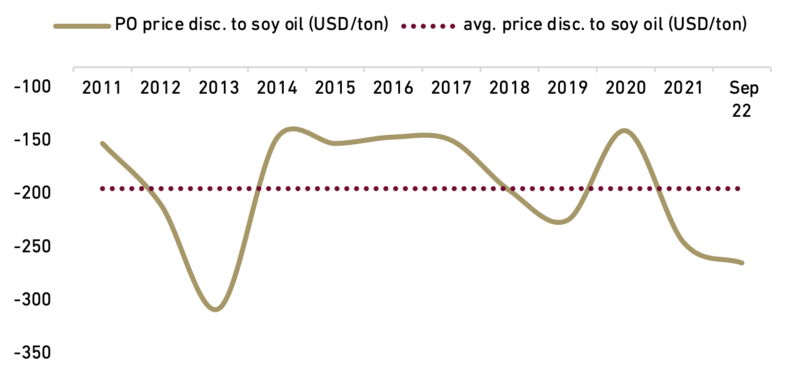 Source : USDA, Ciptadana Estimates
Top picks: AALI, DSNG, TAPG and TBLA
We maintain OVERWEIGHT on plantation sector with our top picks: AALI, DSNG, TAPG and TBLA. In term of production, AALI has shown stable FFB yield each year amidst rigorous replanting activities, while DSNG and TAPG young trees are promising higher yield growth. TBLA as one of the national FAME producers is also the beneficiary of increasing biodiesel blending program.
Exhibit 170: Plantation stock rating and valuation