Construction Neutral

Sector Outlook
Stronger new contract growth in 8M22, but still below pre-Covid
The four SOE contractors under our coverage showed acceleration in new contracts growth of 41% YoY in 8M22 to a total of Rp44 tn supported by economic recovery from Covid-19. The government refocus on infrastructure certainly brings a breath of fresh air to the construction companies, especially when considering the downturn in Indonesia's economy over the past year due to the pandemic.
The highest new contracts growth and value was recorded by ADHI of 71% YoY to Rp16.3 tn. Meanwhile, the smallest growth and value was seen by WSKT of 1% YoY and Rp10.5 tn. The 7M22 new contracts already met 60% of our FY22 target vs. 38% achieved in 8M21. However, 8M22 total new contract is still far lower than 8M19 (pre-Covid) figure of Rp67.2tn. Around 38.7% of new contracts came from government's projects, followed by private projects' of 34.9%, SOE's projects of 23.2% and the remaining 3.3% came from subsidiary or business development projects.
Seeing revenue pickup but profits dented by high interest expenses
Solid new contract growth drove 1H22 revenue higher by 26% YoY to Rp24.6 tn , in-line with seasonality forming 43-49% of FY22 target. However, aggregate net profit dropped by 43% YoY to Rp99 bn (ex-WSKT) as high interest expenses consumed up around 79% operating profit, leaving the contractors with very small aggregate net profit of Rp99 bn or only 3% of 1H19 net profit of Rp2.5 tn. We also see interest coverage ratio deteriorating from pre-covid level of 2.7x to 0.9x in 1H22.
Exhibit 146 : Contractors new contracts in 8M22

Source: Company and Ciptadana estimates
Exhibit 147 : 1H22 revenue and net profit

Source: Company and Ciptadana estimates
Tight balance sheet still main concern, the need for capital increase
SOE contractors currently have highly leverage capital structure with debt to equity ratio standing at 3.0x (2.0x ex-WSKT). This high debt burden has also resulted to slower existing projects completion spoiled by working capital difficulties (little headroom to take on further debts) and high interest expenses. WSKT and ADHI will launch a capital increase via pre-emptive rights issue. WSKT will issue up to 8.72 mn new shares (potential additional capital of Rp3.98tn and dilution effect of 23%) while ADHI will issue up to 7.12 bn new share (potential capital raise of Rp3.86 tn and dilution effect of 67%) with government as majority shareholder will participate in both rights issue via PMN.
We do not rule out the possibility of lower-than-expected public shareholder participation in both WSKT and ADHI rights issue programs. Since the WSKT is operating at loss while ADHI is struggling to book sizable profit, we do not expect full participation from minority shareholders in rights issue. We believe some public shareholders may choose to relinquish their rights and their shareholding gets diluted in terms of percentage of holding. In the last WSKT rights issue, their ownership declined from 34% to 25% after rights issue. Contractors are looking at multiple ways of improving liquidity including sale of assets, bonds or stakes. As an example, i) WIKA plans to offer the debt securities to repay some short-term debt and for working capital, and also sell its 15% stake in Prima Terminal Petikemas to state-owned Pelindo Terminal Petikemas and ii) WSKT signed an agreement with Kings Bless to sell a stake in the Semarang Batang toll road for Rp3.8 tn.
Exhibit 148 : Contractors DER and net DER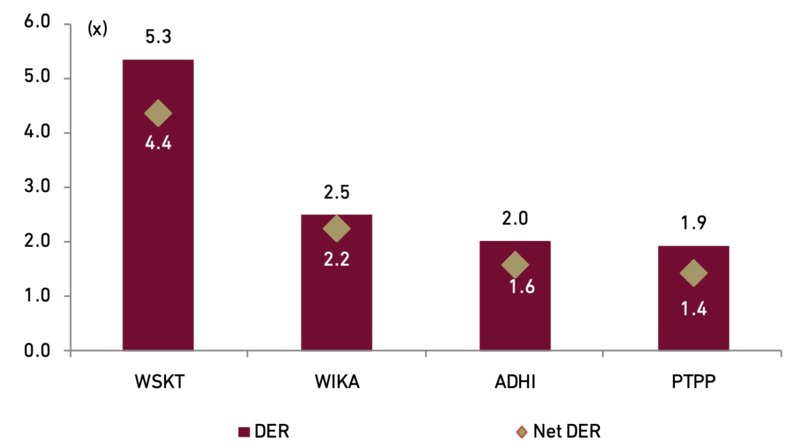 Note: We use equity before minority interest
Source: Company and Ciptadana estimates
Higher infra budget in 2023 to help improve new contracts
The government is allocating an infrastructure budget of Rp392 tn in the 2023 draft budget (RAPBN), which increased by 7.8% from the infrastructure budget in 2022 of Rp363.8 tn. This is to support the acceleration of basic infrastructure development and economic transformation (ICT, connectivity, energy, food), including the development of new administrative capital Nusantara (IKN).
Exhibit 149 : Indonesia infra budget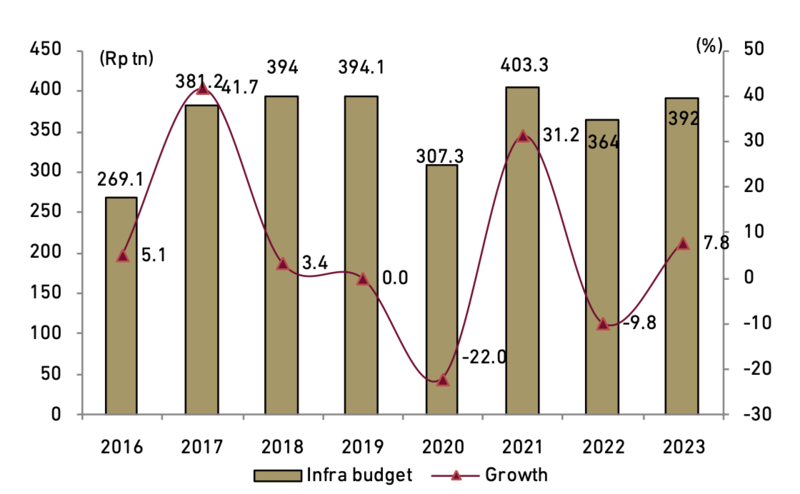 Source: Government
The Public Works and Public Housing (PUPR) Ministry launched Phase 1 of basic infrastructure development of the new capital (IKN) Nusantara, East Kalimantan, with the signing of contracts for 19 project packages in September 2022. This year's Phase 1 package comprising 19 project packages is worth Rp5.3 tn. The PUPR Ministry plans of basic infrastructure development in IKN Nusantara for the period 2022–2024, with a total budget of Rp43.73 tn. Among four SOE contractors under our coverage that secured contracts of Phase 1.
IKN infrastructure development was WSKT of Rp2.1 tn bridge project (JV with Nindya-Modern KSO), ADHI of Rp567 bn housing project for contractor workers (JV with WIKA gedung) and PTPP of Rp92 bn central government area phase 1. We believe higher infrastructure budget should be positive to help the sentiments. We forecasts SOE contractors new contract to grow by 23.5% YoY to Rp125.1 tn in 2023F, bringing total oderbook to increase by 27.4% to Rp311 tn. However, we believe several factors may affect budget disbursement such as potential fiscal weakening due to worsening global economy in 2023 and preparation for 2024 election.
Exhibit 150 : Contractors combined new contracts and orderbook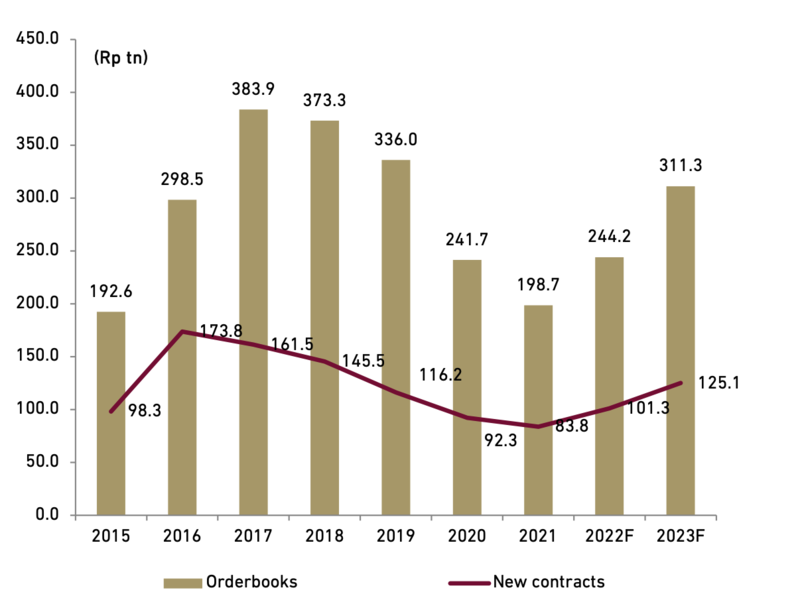 Source: Company and Ciptada estimates
Neutral stance premised on slow recovery momentum
We maintain Neutral view on construction sector given the contractors still face challenges on the execution front due mainly to current weak balance sheet. A debt pile-up, lower margins and steep interest expenses have stressed the income statements of contractors. We rate all counters as Hold but we select PTPP our top pick as it has the highest new contract value and higher margins, while it also the lowest DER of 1.9x at end of 1H22 , which places it in an advantageous position to take on future infrastructure jobs that may require upfront financing. The sector is trading at an unattractive 2022-23F PER of 24.6-13.2x. Nonetheless, i) positive news flow on new contracts including new capital city development , ii) successful assets divestment and iii) improving order book levels despite still below pre-covid level should provide downside risk protection. On one hand, share prices of construction companies could have found the bottoms as WSKT, ADHI, WIKA and PTPP declined by 18.9%, 15.1%, 14.2% and 6.1% YtD vs. broader market return which rose 9.1% at time of writing.
Exhibit 151: Construction sector rating and valuation