Technology/Internet Overweight
Sector Outlook
Large and growing TAM of digital economy in Indonesia
Indonesia digital economy value is expected to grow almost 5x from 2021-2030F from the value of USD70 mn in 2021 to USD330 mn in 2030F. Supported by its young demographic and rising smartphone penetration, Indonesia is the largest digital economy market in South East Asia with one of the fastest growths in the region. According to Red Seer, e-commerce, travel, media, transport, and food delivery are among the drivers of digital growth in the region. The pandemic surely help the acceleration of digital adoption with 21 mn new digital consumers reported since the pandemic; 96% of them are still using the services, and 99% intend to continue using them in the future. In addition, the number of internet users in Indonesia is to grow at CAGRs of 7.3%, outpacing that of other region such as South East Asia, China, and the US at the rate of 5.3%, 4.5%, and 1.4%, respectively for the period of 2020-25F, as per Euromonitor report. RedSeer also reported that Indonesia is among the world's most digitally engaged populations, spending an average of 8.5 hours a day on the internet in 2020, which is 63% higher than the hours per day spent by the populations in China and the U.S, respectively.
Despite the over-hyped, tech is here to stay
With all the aforementioned, we believe that tech is here to stay. We are about to see more digital disruptions coming to every aspect of our life. Nevertheless, in the past couple of years, especially during the Covid-19 era, there tends to be an overestimation on the growth potential, and hence, the valuation that splashed into digital companies. Moreover, abundant and cheap liquidity also play a part to exacerbate this trend. Therefore, at the current tightening cycle, the sector is hit the most. If we base the cycle on the "Gartner Hype Cycle", we believe we are yet to reach "the trough of disillusionment" point. We estimate the trough to arrive next year once the rate hikes and QT has reached their peak.
Exhibit 91: Indonesia Digital Economy Value (in USD mn)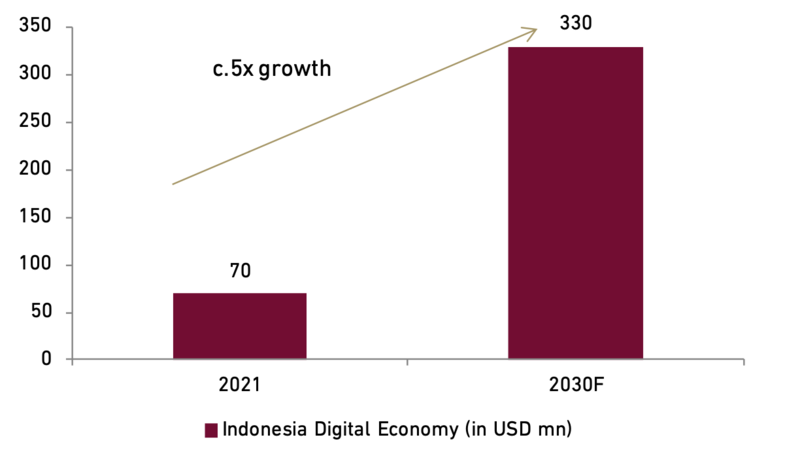 Source : Coordinating Ministry for Economic Affairs, Ciptadana
Exhibit 92: Indonesia Digital Economy Breakdown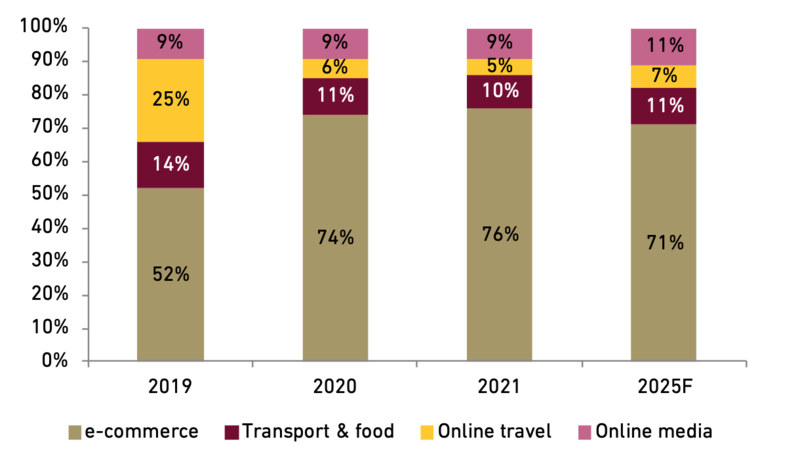 Source : Google, Temasek, Bain, Ciptadana
Exhibit 93: Average Hours per Day Spend on Internet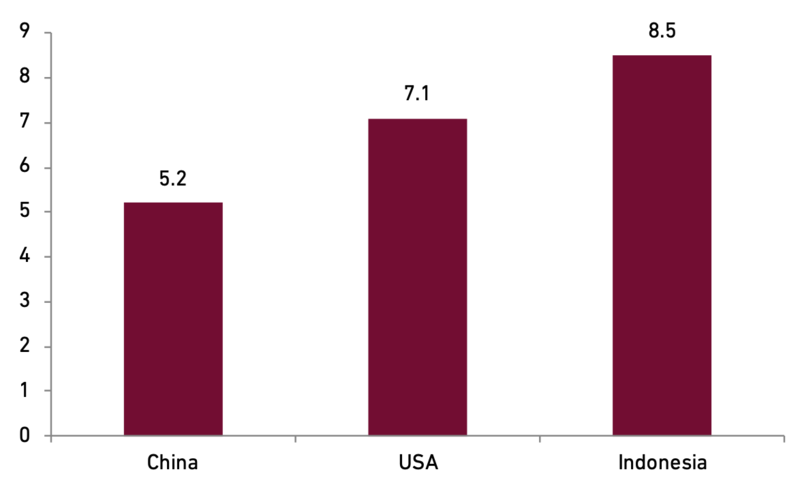 Source : RedSeer, Ciptadana
Exhibit 94: Penetration Rate of Digital Services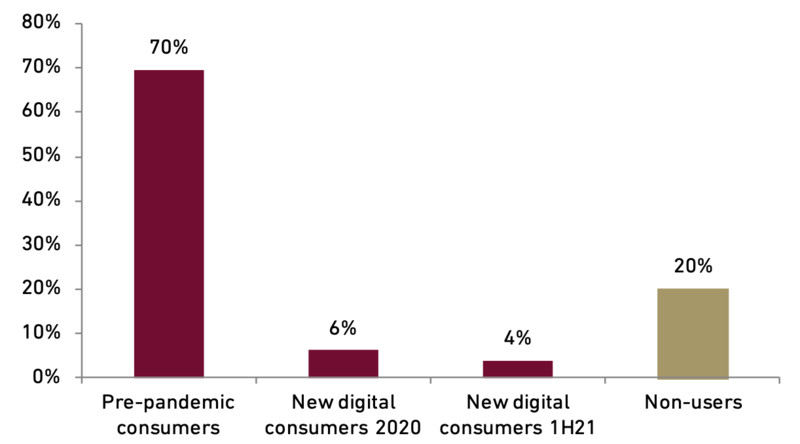 Source : Google, Temasek, Bain, and Ciptadana
Exhibit 95: Average Number of New Digital Services Used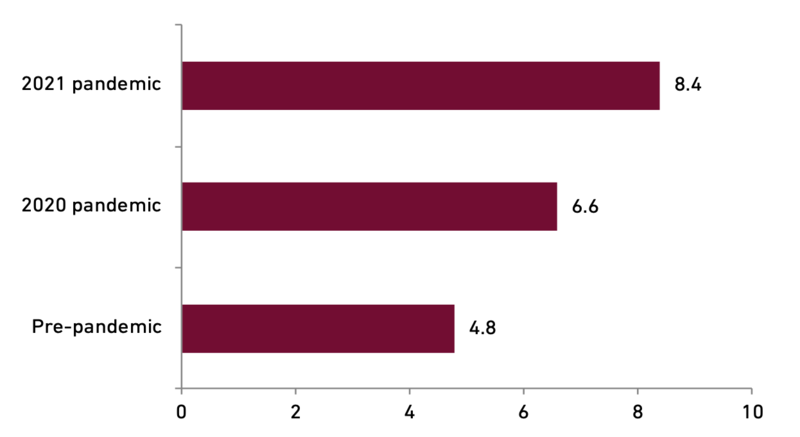 Source : Google, Temasek, Bain, Ciptadana
Exhibit 96: Gartner Hype Cycle Curve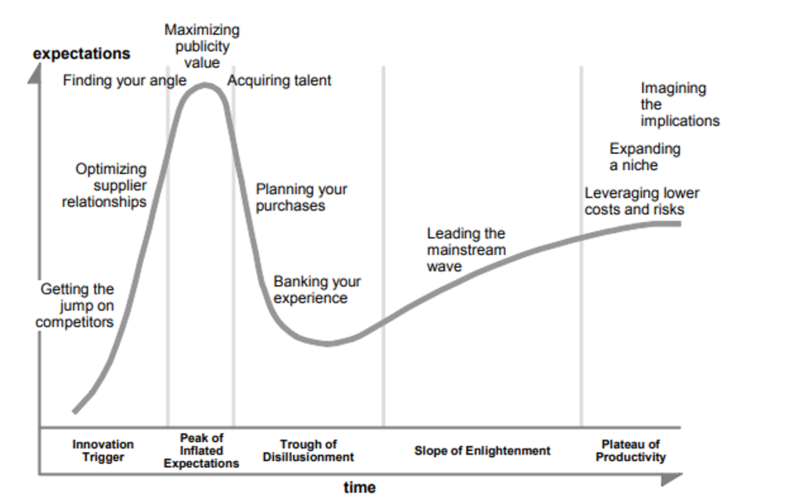 Source : Gartner, Ciptadana
Tech is the play for easing monetary policy
We reiterate our economist view on that the timing of The Fed's pivot in monetary policy to occur in 2H23F. While we believe that a lot of VUCA factors might drive for the timeline to miss our previous estimation, we believe selective positioning in the tech sector at the current cycle might warrant some merits. We also note that despite that global funding has slowed down dramatically for startup funding in 2022, funding in Indonesia could still grow, as per Daily Social. Nevertheless, it is inevitable that investors are more selective and demanding for clearer and perhaps faster path toward profitability before they place their funds.
Slowing start-up funding globally...
Venture and growth investors in private companies scaled back their investment pace dramatically as the slump in the public markets stretched into the third quarter. According to Crunchbase, venture funding for 3Q22 declined 53% YoY and 33% QoQ, continuing the QoQ declining trend since peaking in 4Q21. The number of company that achieved an unicorn status was also on a low of 37 companies, compared to the peak in 3Q21. Based on the funding round, all type of companies are facing declines, however, angel and early stage funding fare relatively better than the late stage and technology growth funding.
... despite it is still growing in Indonesia...
Notwithstanding the slowdown in the global, Indonesia start-up landscape still saw decent traction. Daily Social reported start-up funding in Indonesia reached USD2.6 bn in 1H22, already forming 60.5% achievement in FY21. Despite there is no report on the YoY growth for 1H22, Daily Social reported that 1Q22 funding of USD1.2 bn was doubling YoY. The resilient funding landscape in Indonesia is thank to the relatively immature market in Indonesia and more ideas and early stage or middle stage funding companies are available in the market, we believe.
Exhibit 97: The Fed's Dot Plot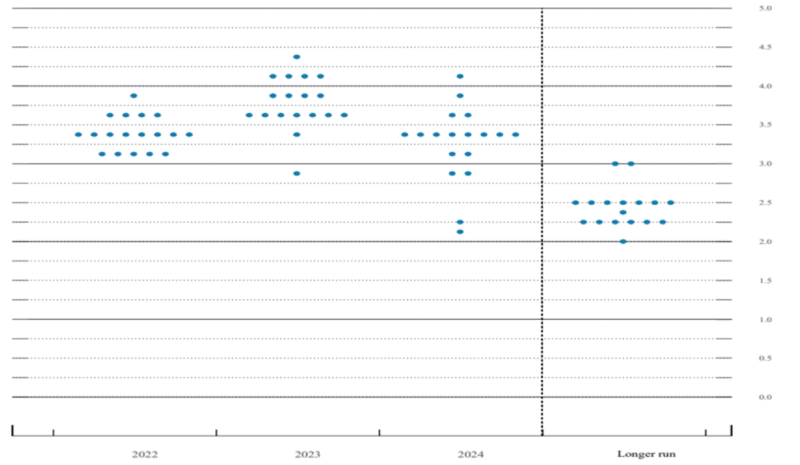 Source : The Fed, Ciptadana
Exhibit 98: Global Venture Funding (in USD bn)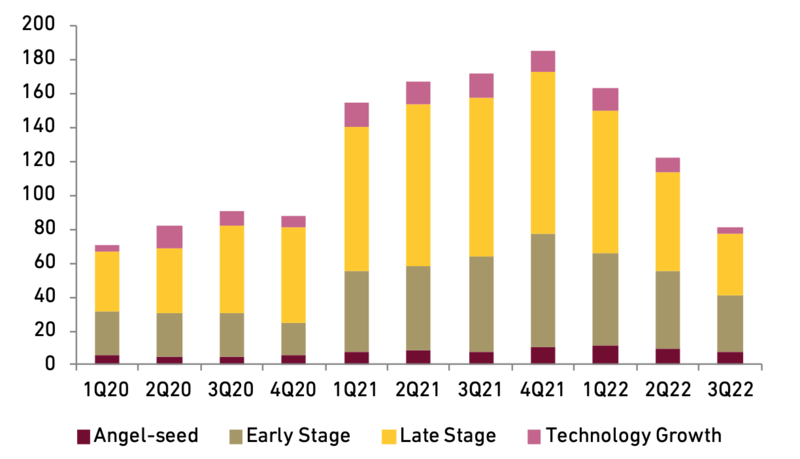 Source : Crunch Base, Ciptadana
Exhibit 99: Number of Global New Unicorns per Quarter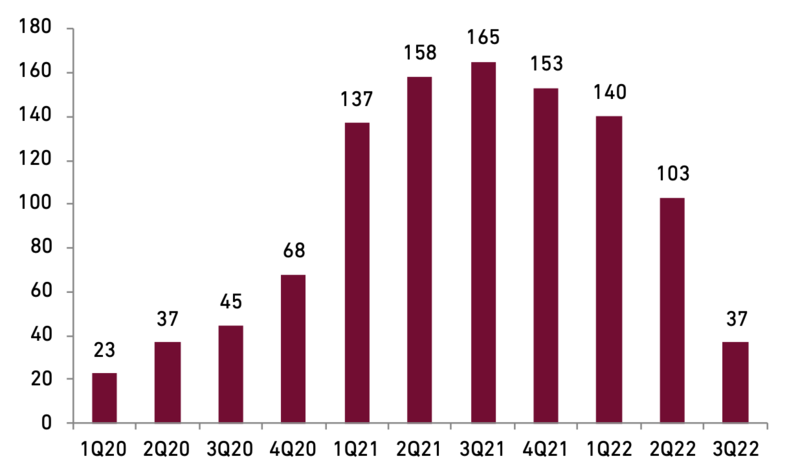 Source : Crunch Base, Ciptadana
Exhibit 100: Indonesia Startup Funding Value (in USD bn)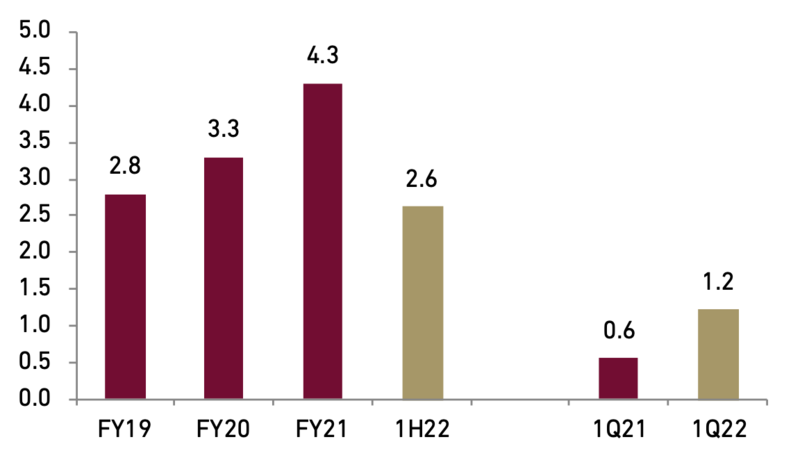 Source : Daily Social, Ciptadana
... however with shifting priority
Despite the resilient startup funding in Indonesia, we observe a shift of demand from investors. As the cost of fund increasing, investors are demanding more profitability or clear path toward profitability. In responding to such investors' demand, we have observed that many companies have moved away from growth-at-all-cost strategy to be more conscious on profitability at least in CM or EBITDA level. In doing so, many companies are improving monetization or doing cost rationalization. Downsizing and employee lay-offs is a common theme in startup news flow this year, with ecommurz reporting around 2,500 startup employees were let go this year. As such, apart from company in early stage that is still early with a relatively fresh or untested idea that could still secure funding, company that are operating in relatively mature industry/market or companies that have already listed in IDX might need to be more mindful on profitability. This, to some extents, might accelerate the selection, as the fittest company that the customers would still stick into, even with fewer incentives, will be the winner. Further, we also this might be a more structural theme going forward, as profitability will continue to be important even though the monetary policy will again ease in the future.
Tactical play on technology sector, we rate BUY on GOTO and WIRG
As argued above, we believe that picking a company that is the leader in the business that it operates and has a clear path to achieve profitability is imperative at the current cycle. We view GOTO as the market leader in all verticals that it operates in and supported by cross-pollination across its ecosystem tick the box for this criterion. We have noted that GOTO have managed to reduce losses in CM and EBITDA level and will continue to do so while maintaining its market leadership. We also like WIRG thanks to its innovative AR/VR solution with technology advantage compare to the others. It also ventured to the metaverse and currently is the only investible Web 3 proxy in IDX. It has also secured partnership with leaders from multiple industry that we believe, enabling its metaverse project to have the most concrete and diverse use cases vs. Competitors. In addition, WIRG is already a profitable company, lowering the funding risks going forward.
Exhibit 101: GOTO's Narrowing CM and EBITDA losses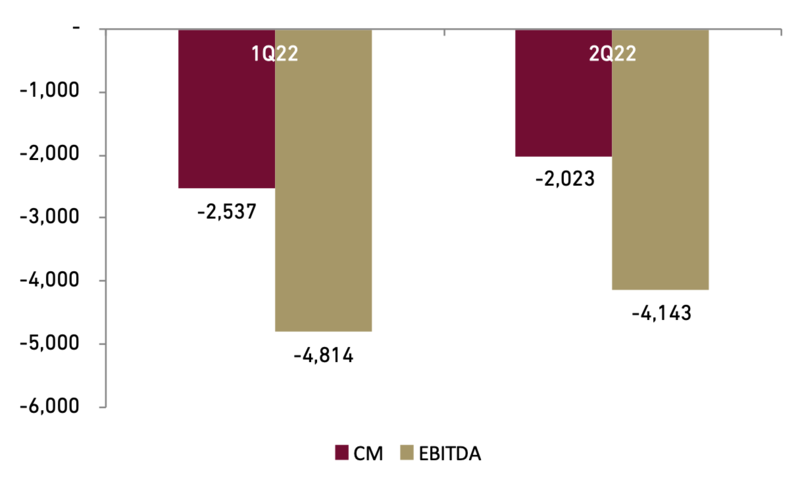 Source : GOTO, Ciptadana
Exhibit 102: Technology Company Stocks Rating and Valuation