Retail Overweight
Sector Outlook
Mobility to continue to improve
According to google mobility index as of the 3rd week of October, Indonesia mobility data on retail and recreational area was around 3% above the base line. In this case, the graph below shows Mobility trends for places like restaurants, cafes, shopping centres, theme parks, museums, libraries, and movie theatres. While The baseline day is the median value from the 5‑week period Jan 3 – Feb 6, 2020. In a big picture, mobility on retail and recreational area gradually move towards pre-covid level. We expect, this trend will continue to go up, due to vaccination that reach more population, and declining covid-19 cases.
Exhibit 137: Indonesia mobility trend on retail and recreation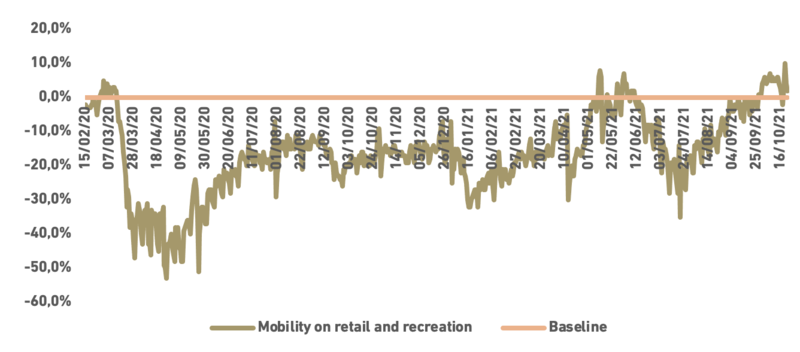 Source: Google Mobility report, Ciptadana Sekuritas Asia
Declining new covid-19 cases to support traffic recovery
The covid-19 new cases is currently on a decline stage, which is a positive catalyst for retail sector. The chart showed declining daily new covid-19 cases, after reaching its peak on mid July 2021. This will boost the customer's confidence to visit shopping centre, and also allows government to reduce the restrictions. In addition, the growth of fully vaccinated people in Indonesia is showing an uptrend, this will make people feel more secured to going out . We believe, the only risk to retail sector will be, if there is another covid-19 wave or another new variant in 2022.
Exhibit 138: Covid-19 new cases

Source: Ministry of health, Ciptadana Sekuritas Asia
Exhibit 139: Daily fully vaccinated people in Indonesia

Source: Ministry of health, Ciptadana Sekuritas Asia
Discretionary still lagging compare to staple
The mobility trend for for places like grocery markets, food warehouses, farmers markets, specialty food shops, drug stores, and pharmacies yielded higher traffic compared to retail places like shopping centre. As of the third week of October 2021, the mobility for groceries and pharmaceutical shops was around 20-22% above the baseline, while the mobility to retail places was only around 2-3%. We believe, in this post pandemic transitional period, customers still prefer to purchase more necessity items, such as food, beverages, and personal care, therefore the recovery is faster compared to discretionary. Despite that traffic to retail places is still lagging compared to grocery markets and pharmacies, we see similar trend between the two since early 2020, hence, we believe that traffic to retail places will improve gradually until 4Q21, and continue to go up with higher pace in 2022F.
Exhibit 140: Mobility trend on retail and grocery places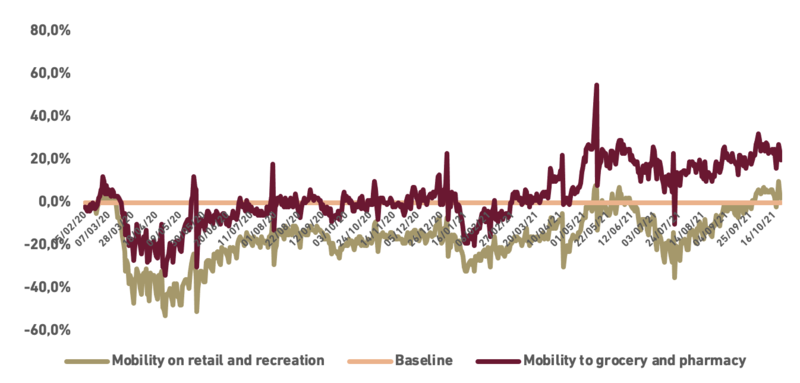 Source: Google Mobility report, Ciptadana Sekuritas Asia
Overview on BI retail sales index
BI retail sales index showed a decline trend since March 2020 until February 2021, we see this as an impact of covid-19, after that, retail sales index climbed up until May 2021, and dropped again until July 2021, due to covid-19 delta variants. We expect retail sales index will begin its uptrend in September, as CCI in September increased by 23% MoM. We see a similar trend between retail sales index and CCI, as CCI started to recover in September, we convinced that retail sales index will also improve until the end of 2022. Government also imposed lighter mobility restrictions in September, and allowed restaurants and café for dine in, these will boost the recovery of retail sales index. From retail sales growth, we can see, when government imposed lighter mobility restrictions, the growth was improving (Des 20-Apr21), as daily covid cases is keep declining, and vaccination showed a decent progress, we believe there will be no meaningful mobility restrictions in 2022.
Exhibit 141: BI retail sales index & consumer confidence index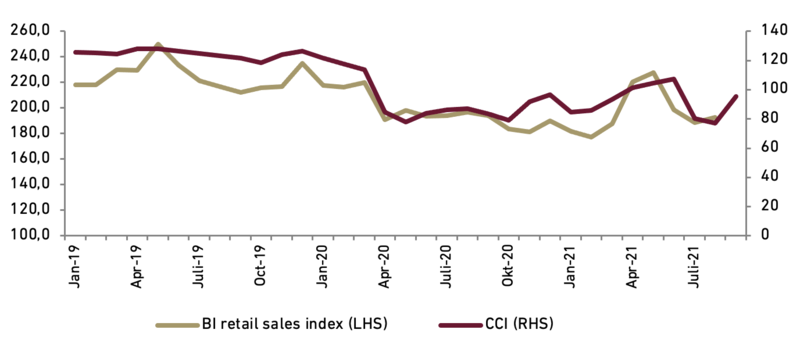 Source: BI, Ciptadana Sekuritas Asia
Exhibit 142: BI retail sales index growth (%, YoY)

Source: BI, Ciptadana Sekuritas Asia
Exhibit 143: Fashion and Home improvement retail sales index growth (%, YoY)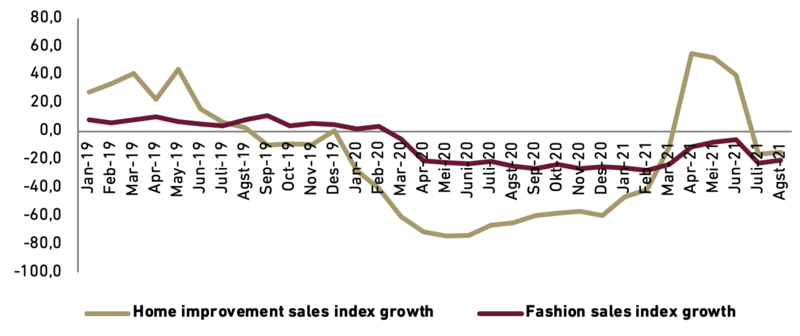 Source: BI, Ciptadana Sekuritas Asia
Fashion segment to recover in 2022
Breaking down the retail sales index, fashion category experienced a steeper decline since early pandemic until June 2020 before going up and reach its peak in April 2021 (lebaran festive), while home improvement segment showed relatively more stable growth trend. In 2022, we expect fashion sales will improve a lot, due to pent up demand, and more impact from lebaran seasonality. As we can see, in 2Q21, with less strict restrictions compared to 2Q20, fashion sales growth increased significantly. Hence, we believe lebaran festive will be the game changer for fashion retailers in 2022, as it contributes around 40% to total revenue.
Positive catalyst for home improvement segment
Our property analyst expect that residential sales will recover in 2022, due to, better covid-19 situation, low interest rate environment, and government support in form of the extension of 0% down payment (DP) incentive and up to 100% provision of loan to value (LTV) ratio credit, until 22 December 2022. We believe, this will also create demand for home improvement product in 2022. We expect, home improvement sales will improve gradually in 2022, in line with the recovery of property sector and remained solid purchasing power from middle-up segments.
Exhibit 144: Residential sales growth based on size (%, YoY)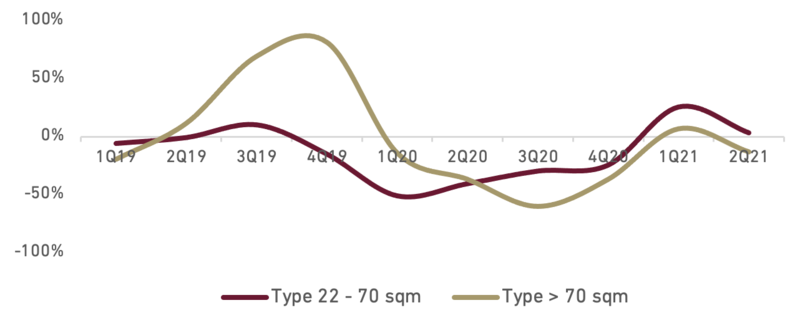 Source: BI, Ciptadana Sekuritas Asia
Commodity price to boost purchasing power
We expect that average CPO price will be at RM4,000/ton in 2022, due to higher global palm oil output. Despite lower than current level, we believe that CPO price still at high level territory, and still enough to support the low-end purchasing power. We see that low-end customers, especially in Sumatra and Kalimantan Island are highly depending on CPO industry, as many of the population work on CPO field. This will benefits the mid to low retailers such as RALS and LPPF.
Computer and smartphones market will keep growing
We see opportunities in computer categories, as covid-19 pandemic creates WHF culture and we expect this to continue and become a trend in 2022. Hence, demand for computers and other supporting tools will keep increasing in 2022. On the other hand, smartphone penetration is still on the rise, and expected to reach 75.4%, according to statista forecast. We believe this due to mushrooming low-end smartphone and many credit facilities, which make low-end customers to be able to purchase smartphones.
Exhibit 145: Indonesia smartphone penetration rate

Source: BI, Ciptadana Sekuritas Asia
Middle class segment for Big ticket items
The sum of saving account and time deposit has a significant increase from time to time, even stronger growth in Q2 2021. It is contributed from increasing number of customers who have saving and Time deposit, especially from middle class segment. It indicates that middle class segment will remained financially solid in 2022, and will be able to increase their basket size or purchase big ticket items. We believe, this will benefit retailers such as ACES and ERAA, as they sell some premium products.
Exhibit 146: Fund from saving account + time deposit (in billion Rp)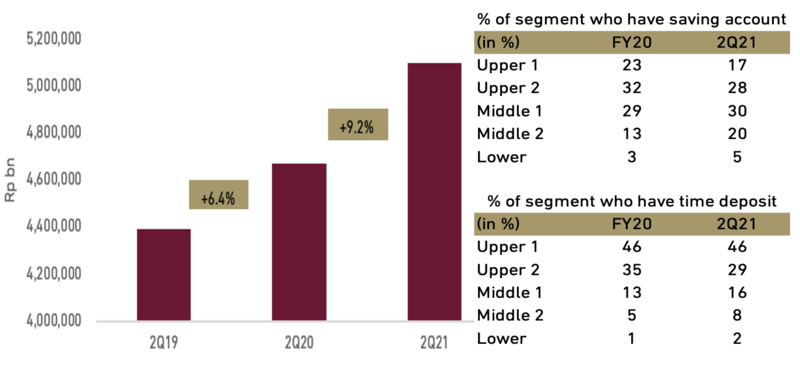 Source: OJK, Nielsen, Ciptadana Sekuritas Asia
We see there will be not much expansion for retailers in 2021, as most of the retailers will keep focus on sales growth recovery on their existing stores, especially for low-end retailers such as LPPF and RALS.
More contribution from online sales and E-commerce
Post covid-19, we expect some of consumer's habit has shift to shop online, as they feel more convenient and easier to shop from home. We see this as an opportunity for the retailers to improve their online sales and e-commerce contribution in 2022, as we expect the trend of shop from home will continue to grow. At the moment the contribution from online sales to retailers is still around 7-10% to total revenue.
Rating and Recommendation
We believe, the retailers' earnings will recover in 2022F, due to traffic recovery to shopping places and more meaningful lebaran festive, which will result in higher revenue. Our top pick for retail sector is ERAA, which benefited from IMEI regulation, and decent demand for gadgets. We have a BUY call for ERAA with higher 2022F TP of Rp980/sh using 13.7x multiple, or at around its +1 st dev of its 5 year historical average. At the moment, the stock trades at 9.1x 2022F PER.
Exhibit 147: Retail stocks rating and valuation

​