Property Overweight
Sector Outlook
Residential sales set to recover post-pandemic
Residential sales in the primary market experienced a deep contraction in 2020. The declining property sales affected all types of residence, most significantly large houses. In addition to Covid-19, the main impediments to property sales in the period includes: i) higher prices of construction materials, ii) licensing/bureaucracy issues, iii) high interest rates on housing loans, iv) large down payment requirements and v) tax issues.
Exhibit 118: Residential sales growth based on size (%, YoY)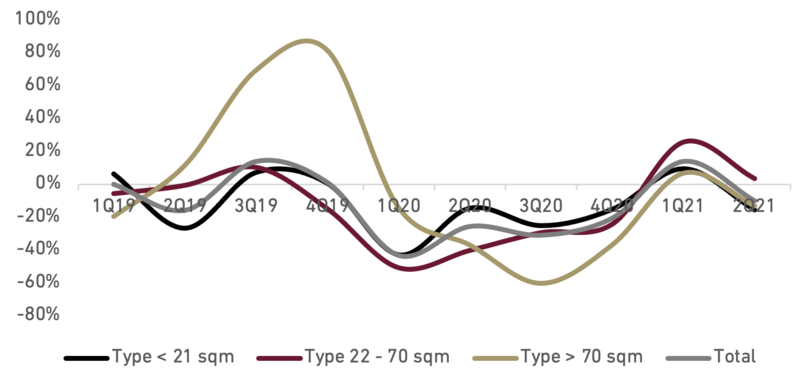 Source : BI
The condition improved in late 2020 prior to vaccine roll out starting 1Q21. Unfortunately, sales slumped back into contractionary phase in the following quarter as the second wave of Covid-19 hit. we are optimistic that with increasing vaccination rate, property market will bounce back in 2022.
Low interest rate supports residential demand
Indonesian Government maintained low interest rate to support property industry during the pandemic where until October 2021, BI rate stays at 3.5%. Annually, growth of housing and apartment loans disbursed by the banking industry experienced a rebound in 2Q21 where both rose 6.70%/5.76% YoY respectively. Unfortunately, shophouse and office loans growth still consistently negative for the last two years. We believe the low mortgage interest will continue to drive demand for residential property in 2022. On the other hand however, commercial segment will take longer time to recover.
Exhibit 119: Property loans growth by segment (%, YoY)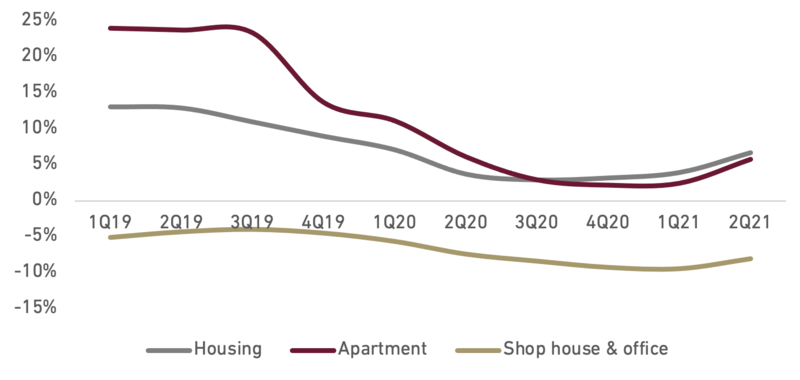 Source : BI and Ciptadana Estimates
In October 2021, Bank Indonesia (BI) extended the 0% down payment (DP) incentive and the provision of loan to value (LTV) ratio credit or property financing up to 100% until 31 December 2022. In our view, the policy extension will not drastically spur property demand as many customers maintain cautious to spend on property. However, it adds support for home purchase growth and we have seen increasing mortgage value in 2021. According to BI, house ownership loan remains the preferred form of financing for residential property purchases, dominating 75.08%, followed by cash installments (16.89%) and cash (8.04%) in 2Q21.
Early signs of demand recovery in leased retail space
Demand growth for commercial property was already at low level pre-pandemic and continued the downtrend until early 2021. It grew slightly in 2Q21 supported by larger demand in hotel segment and shallower contraction affecting leased apartments in line with the use of hotels and leased apartments for self-isolation quarantine protocols and frontline healthcare workers. The increase was also driven by convention halls as demand for MICE began to emerge. There were early signs of improving demand in leased retail space as public activity in shopping malls began to return, although still below pre-pandemic levels.
Exhibit 120: Commercial property index growth (%, YoY)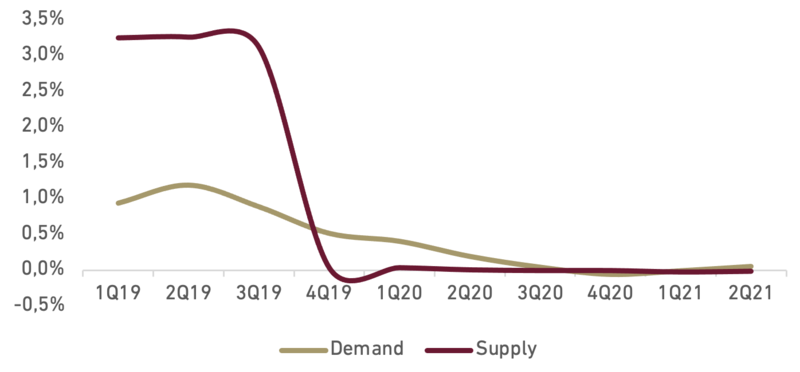 Source : BI
Industrial estates become more attractive as internet thrives
Though the overall demand for strata title commercial property grew moderately in mid-2021, the growth was still held back by deep decline in take up for office space as well as weaker demand for industrial estates and warehouse complexes. We believe such condition was the result of the wait-and-see mode of business players concerning government regulations and pandemic conditions. However, as internet of things intensify, demand for warehouses and data centers should increase hence beneficial for industrial estate developers.
Property prices face limited upside amidst weak demand
Residential and commercial property prices moderated in 2021 after strong rally in late 2020 as economic activities were set to reopen following the beginning of vaccine roll out. Unfortunately, by mid-2021, prices of strata title commercial property flattened. The moderation caused by lower prices of industrial estates, particularly in Greater Jakarta and West of Java, due to high existing prices amid a surge of Covid-19 cases. Meanwhile, demand for hotel rooms increased to facilitate quarantine protocols, coupled with a growing trend of weekend staycations. Approaching the 2022, we believe that commercial property prices will continue a slow incline, backed by limited supply.
Exhibit 121: Property prices index growth (%, YoY)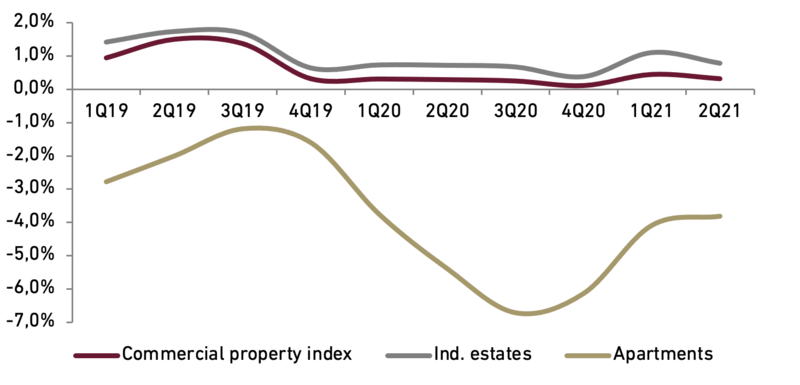 Source : BI
Office sector remains challenging however rental decline slows down
Net absorption of office space is still negative while occupancy rates have dwindled and rents remain under pressure. Nevertheless, optimism has improved towards 2022, particularly given a more positive outlook for economic growth. We expect office demand will be driven by logistics, pharmaceuticals, technology and energy sectors.
Fewer vacancy due to limited supply
We expect rents to improve in line with GDP growth, as supply stays at relatively lower levels. According to Colliers International, Jakarta office vacancies will increase about 1.5% YoY in 2022, although may decrease to about 1.0% p.a. given the lower supply. Limited future supply and low transaction volume add pressure to selling prices which are only likely to grow slowly in 2021-2024.
Exhibit 122: Office space supply pipeline 2021 - 2024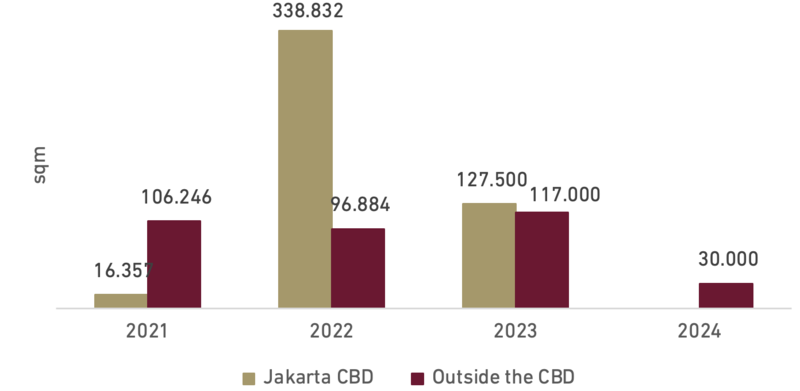 Source : Colliers International and Ciptadana Estimates
Industrial estates become more attractive as internet thrives
Slower increase in overall commercial property prices were influenced by declines in the leased segment, primarily retail and office space in line with public activity and mobility restrictions as counter measures to the Covid-19 pandemic. Meanwhile, lower prices of industrial estates continue to weigh down the overall property index.
Real estate FDI continues to grow in 1H21
Real estate FDI surged 12.8% YoY in 1H21 with total FDI climbed 15.2% YoY. However, real estate contribution to total FDI slightly contracted to 8.1% by end of June 2021 from 8.3% in 1H20. We expect the condition will improve sequentially supported by faster development in industrial sector.
Exhibit 123: Indonesia's real estate FDI and total FDI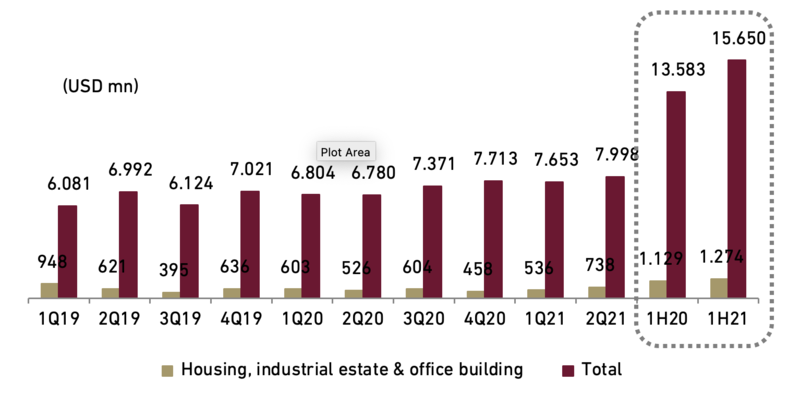 Source: BI
We see several positive catalysts for property sector in 2022 hence maintain OVERWEIGHT. Property stocks are mostly undervalued with mostly trading below their last year 5-year average discount to NAV. We pick LPKR, BSDE and SMRA as our top picks following solid marketing sales made in 2021. ASRI and PWON will also benefit from further ease restrictions of social activities.
Exhibit 124: Property stock rating and valuation

​