Telecommunication Overweight
Sector Outlook
The long-awaited consolidation is finally taking place
Telecommunication (telecom) sector has been in talks for industry consolidation for a while. The last major M&A was happening back in 2013-2014 between EXCL and Axis and it has yet resulted in the ideal level of competitive landscape. The industry has since then maintained the aspiration for another consolidation as mobile data pricing structure continued to be non-optimum, putting pressures on industry's growth and profitability. Previous key hurdle for M&A was spectrum retention issue that has been partly solved by the Government's regulatory reform in the Job Creation Bill. This has set the tone for new confidence of better spectrum retention terms for M&A. We believe industry consolidation is a positive event which could drive sector re-rating. Fundamentally, industry M&A would benefit telecom companies (telcos) as it could ease competition and increase the likelihood for data pricing rationalization that would benefit all of the telcos. For the merged telcos, we also expect some cost savings and capex efficiencies that could potentially unlock value. M&A aftermath and potential for another M&A in the industry would be one of the key theme for the industry going into 2022F.
The merger impacts in general
We think the mobile merger might have bigger impacts than improved telcos profitability. It reverts from Government's interests in increasing fiscal revenue to ambition for equal 4G LTE access across the country and 5G roll-out which in turn will support Indonesia as a powerhouse nation for digital economy. Current competition structure with 5 players does not bode well for the aforementioned purpose. We notice telcos' mobile service revenue as percentage of GDP has declined since 2018 when the price war occurred as the industry has been struggling with pricing issues. This is stemmed not only due to macro issues but also the competition and industry landscape, we believe. M&A would certainly help to alleviate this issue.
Exhibit 39: Mobile Service Revenue to GDP (%)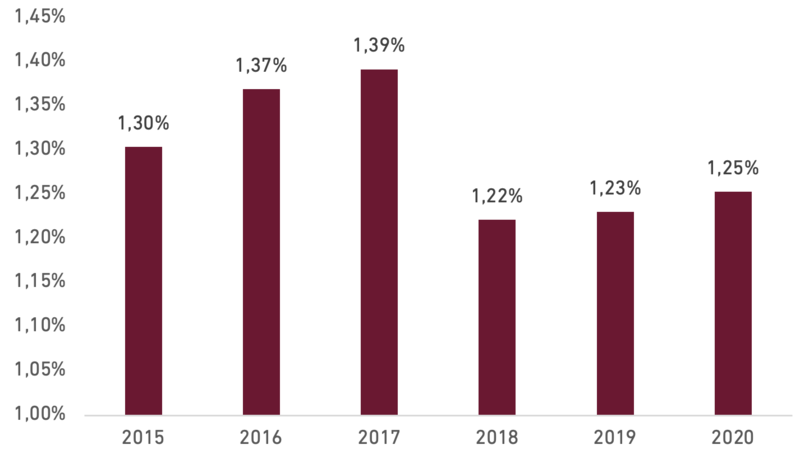 Source : Companies, Ciptadana
Exhibit 40: Top-3 Telcos Data Consumption (LHS, in PB) vs. data yield (RHS, Rp/MB)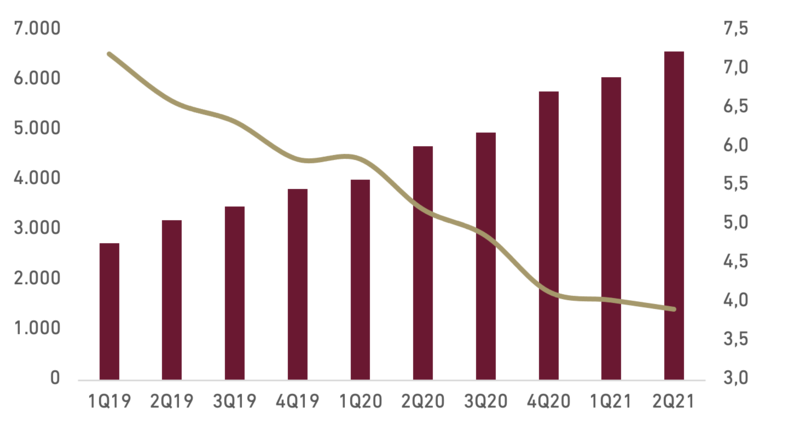 Source : Companies, Ciptadana
Timely merger ahead of big spectrum auctions
4G LTE penetration growth and 5G roll-out would incur sizeable spectrum capex for telcos. Ministry of Information, Communication, and Technology (MoICT) has indicated plans to auction out a wide range of spectrum band from 700MHz, 2,300-2,600Mhz, 3,300-3,600MHz and perhaps millimetre band spectrum to propel 4G densification and 5G service initiation. We expect the spectrum auction cycle will elevate the industry's capex intensity in 2022-24F.
ISAT-H3I merger came at the right time with the spectrum auctions cycle, we believe. While telcos are currently have healthier balance sheet (thanks to asset divestments and cost rationalization), they would welcome any M&As that could improve industry competition. Telcos are currently spending 10-12% of their revenues for spectrum fees and the subsequent spectrum auctions could potentially increase spending portion by c.15pps by 2025F. Therefore, any improvements in data monetization are imperative to sustain profitability.
From Government's perspective, healthier industry landscape would ensure telcos' commitment for network expansion to meet Government's aspiration of equal internet access in the country. Further, with stronger telcos, it is more likely that the Government could garner greater auction proceeds. We note that spectrum licensing fees in Indonesia are one of the cheapest in the world both in perspective of cost per MHz and cost per MHz per population. Government would certainly welcome any potential increase in fiscal revenue from spectrum fees which is more feasible to take place in a better industry landscape.
We estimate the spectrum capex spree could cost Indo telcos Rp41.7 tn in spectrum acquisition price (including 1-year prepayment of annual spectrum fees) and Rp20.8 tn in additional annual spectrum fees if all of the planned spectrum are auctioned according to the plan.
Exhibit 41: Spectrum Fees Across Countries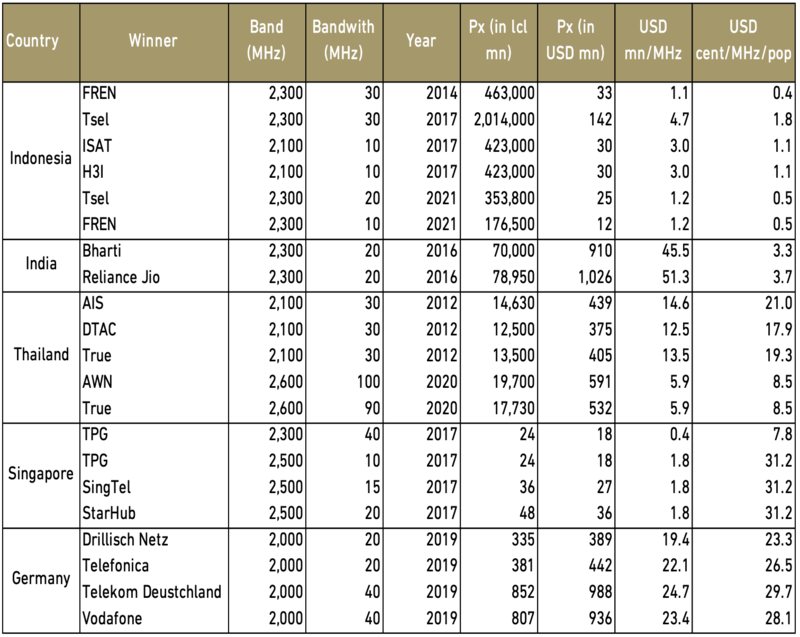 Source : Companies, Ciptadana
Exhibit 42: Potential Spectrum Auction in upcoming years

Source : Companies, Ciptadana
Merger will accelerate industry revenue growth: case from 2014 M&A
In previous episode, telcos merger has successfully accelerated revenue growth in the industry. This was attributed to competition de-escalation post-merger, resulting in ARPU uplift on better tariff monetization. During that time, the industry saw faster mobile service revenue growth from 7.4% in 2013 (1-year before the merger occurred) to the tune of 8-10% in 2014-16. This post-merger accelerated revenue trend also takes place across other regional markets, such as in India, Netherlands, and the Philippines. We believe the industry could see similar pattern in 2022F onwards after ISAT-H3I merger for a couple of reasons. Firstly, we expect realizing cost efficiencies will be the focal point of the merged company as pointed out in their disclosures. Operation wise, it would take at least one or two years to integrate nationwide telcos network. Secondly, the mobile market itself has already seen some rationalization for some time now. Competition is still tight; however, it is not worsening. Thirdly, as the economy recovers and people's purchasing power picks-up, downtrading trend should subside.
Potential market share gains for telcos on the sideline
Another observation from prior merger is that telcos that are not involded in the merger are gaining some market shares from the merged telcos. We note that this trend is also happening in merging telcos in other countries. More so in Indonesia as the market is dominated by pre-paid subscribers (c.98%) with 130% active SIM card penetration rate which means that many Indonesians are likely to own multiple SIM cards. As such, any mergers could potentially wash some subscribers away especially those who wants a new carrier for their secondary number.
In 2014, EXCL lost some 4pps revenue market share over 2014-2016 period post-Axis acquisition. EXCL also lost 9pps subscriber market share within the next three years. We expect ISAT-H3I to also lose some market share after merger, however, at a softer magnitude. Arguably, we think H3I has a stronger brand than Axis and has its own niche market among young population and gamers. Management has already mentioned that they will continue with a dual-brand strategy, hence no brand will be discontinued post-merger.
Exhibit 43: Mobile Industry Revenue (Rp bn, LHS) and YoY growth (RHS)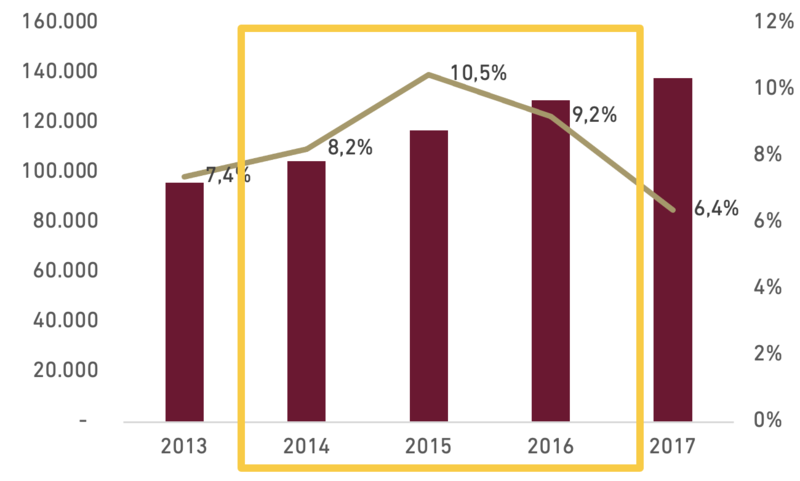 Source : Companies, Ciptadana
Exhibit 44: Revenue Market Share Among Top-3 Telcos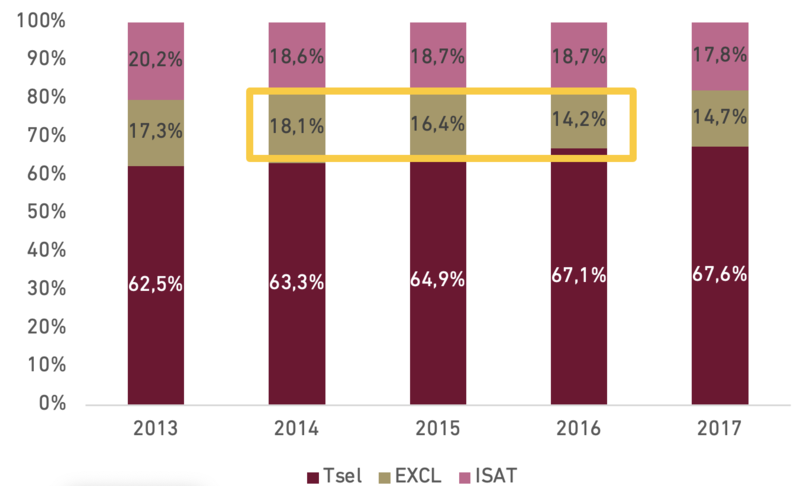 Source : Companies, Ciptadana​
Many news outlet, including Bloomberg, have reported that Axiata and Sinarmas Group are in talks on potential collaboration, possibly leading to another telcos merger. We see a decent chance of this to happening as post ISAT-H31 merger, each EXCL and FREN will find it difficult to compete with Tsel and the merged company. An EXCL-FREN merger will form a telcos with c.100 mn subscribers that bode well for its operating scale as most of the costs are fixed. More importantly, a merger will make EXCL-FREN's spectrum holding competitive with other telcos. EXCL and FREN each holds 90MHz and 62MHz, respectively. If these two merge, the merged company will be sitting om 152MHz, comparable with Tsel's spectrum holding of 155MHz. This is 34% of spectrum market share there are available for telco operators at the moment. Further, according to AT Kearney report, only two telcos in a given landscape can deliver consistent returns above WACC. In Indonesia, we think Tsel is a sure winner, and if uncontested, ISAT-H3I will become the runner-up. EXCL and FREN need to combine if they would have any chances to compete, we believe.
Brighter outlook for telcos in 2022F
The sector is still in a structural transition stage from legacy services (voice and SMS) to data services. The phase of the transition, however, is different from one telcos to another. The silver lining is that the level of competition has been stabilizing of late. From this point onward, we continue to believe competition will still be intense but manageable. Telcos may have their own agendas, however, none would benefit from a severe price war. Tsel's retaliation package 'Unlimited Max' has somewhat successful in stamping its authority as the telcos with unparalled network quality. Also, further economy recovery will certainly help telcos with monetization. With the M&A in place, we see the bigger odds of data tariffs repair that will translate to higher data yield and ARPU uplift. This will benefit telcos massively given the telcos' cost structure and as data traffic is expected to continue to grow strongly. Another key driver is cost discipline which in turn befits into another important lever to cash flow generation. Risk is elevated capex spending to beef-up network quality and to bid for the upcoming spectrum auction.
Exhibit 45: A&T Kearney Report on Telcos Profitability Profile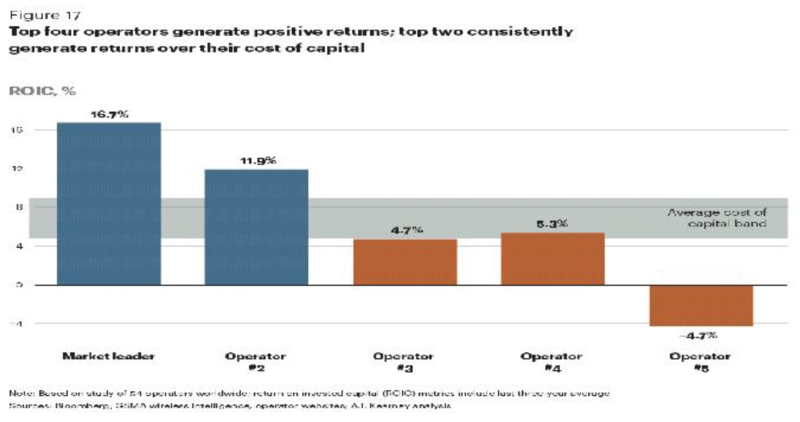 Source : AT Kearney, Ciptadana
Exhibit 46: Telcos Pre-merger Stats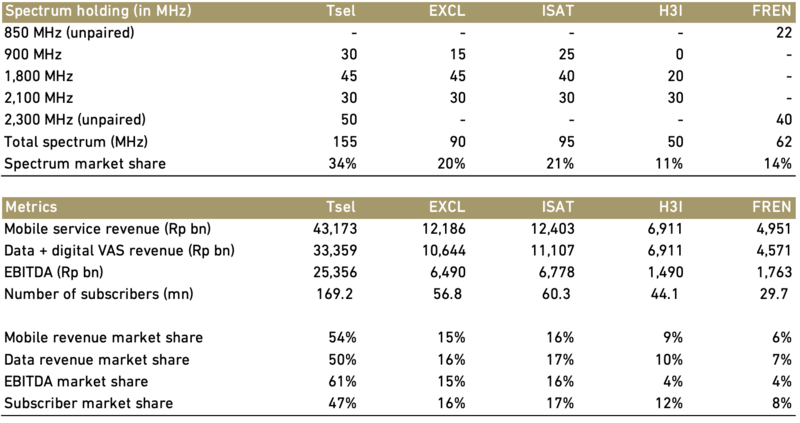 Source : Companies, Ciptadana​
Exhibit 47: Telcos Post-merger Stats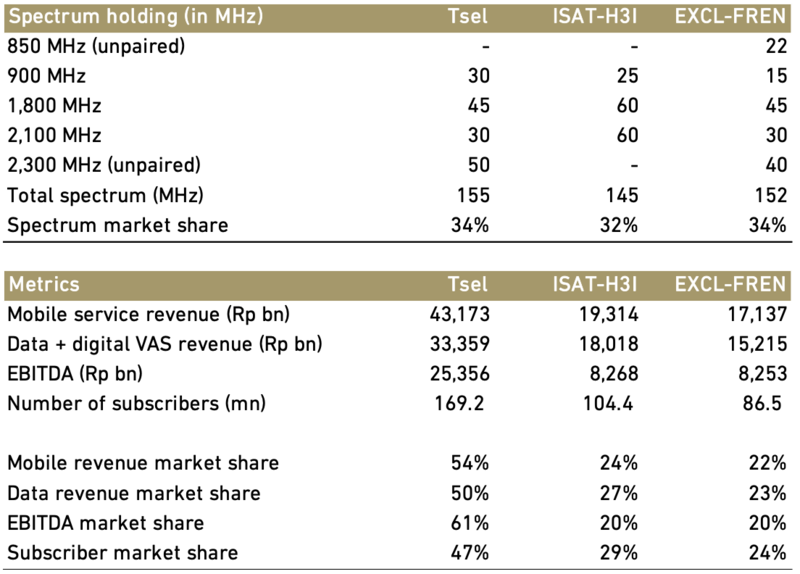 Source :Companies, Ciptadana
Industry data traffic growth is set for further growth
Since the beginning of 4G roll-out in 2015, data consumption has witnessed a tremendous growth. Data traffic (from the top-3 operators) grew at 15.7% compounded quarterly rate in 1Q15-2Q21 with 2Q21's figure is at 38x of that in 1Q15. Notwithstanding the explosive growth, we believe Indonesia is still in the early phase of mobile data adoption. Indonesia's smartphone penetration picked-up rapidly in the last few years due to the rise of cheaper handsets especially the Chinese brands. However, Indonesia's smartphone penetration rate of 72% in 2021F is still low compared to neighbouring countries (Thailand: 85%, Malaysia: 80%, Philippines: 75%). Furthermore, monthly data-consumption-per-subscriber number also suggests ample further growth potential as the average from top-3 telcos is currently at 7.4GB, far lower than that of other South East Asian countries (Malaysia at 14GB/subscriber/month, Thailand at 15GB/subscriber/month) or India (10GB). Having a young demographic profile, coupled with the acceleration of digitalization trend, we estimate data traffic could still post 40% CAGR in 2020-22F.
Exhibit 48: Smartphone Penetration in Indonesia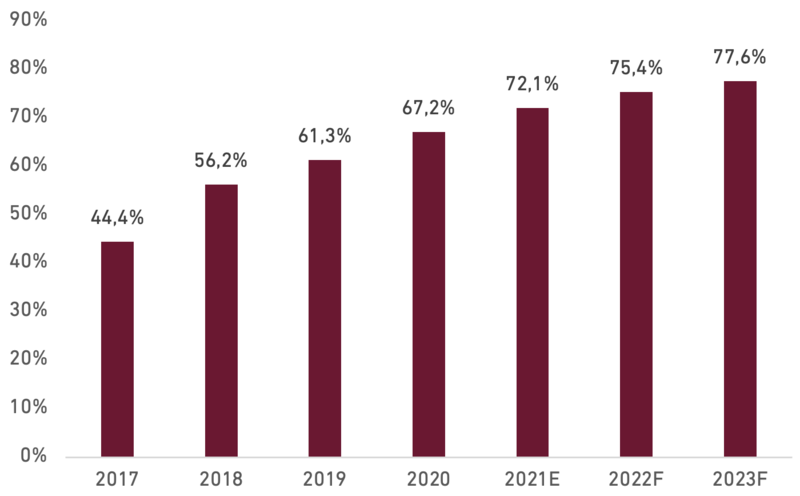 Source : Statista, Ciptadana
Exhibit 49: Data Consumption per subscriber per month (in GB)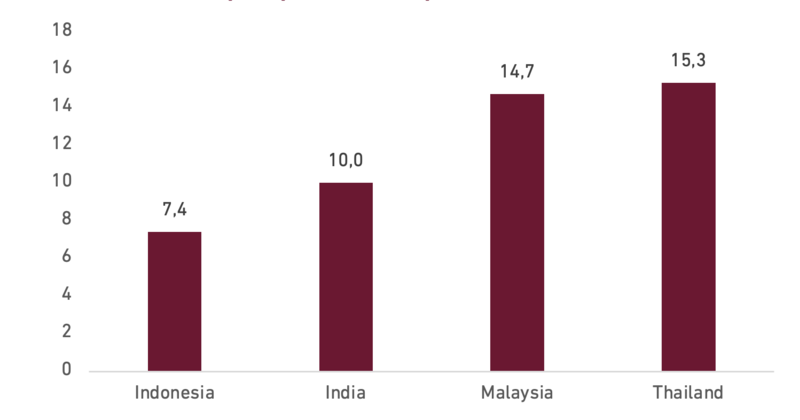 Source :Companies, Ciptadana
Smaller telcos is expanding to ex-Java…
Competition landscape in telcos sector is dynamic and intricate. Differences in ex-Java presence, economic of scale, and legacy/data revenue mix are complicating the competition dynamics. For instance, apart from the incumbent Telkomsel (Tsel), smaller telcos are expanding their ex-Java coverage as a greenfield revenue opportunity. EXCL as the early mover, started its ex-Java expansion in 2H16 and has managed to reach >90% population coverage in key islands with current estimated ex-Java market share at c.13%. ISAT and Hutchison 3 Indonesia (H3I) have also started expanding to ex-java in 2018/2019 with ex-Java population coverage at around 90%/80-85%, respectively. FREN, while also has initiated ex-java expansions, is more focused to cover more sites in Java and gain more subscribers. We believe EXCL has already achieved the appropriate scale in some of its early ex-Java investments. It now needs to balance out between monetizing and filling-in more subscribers to its networks. On the other hand, ISAT and H3I will continue to expand their coverage into new areas over the next two years and customers' acquisitions will be their focal points for a while.
… taking Tsel market share for a while…
Tsel is the network leader in Indonesia and is the incumbent operator in ex-Java with nationwide coverage of >95%. At the same time, Tsel is still in the midst of legacy transition to data/digital services as 23% of revenue is still derived from legacy services. Before smaller telcos rolled out ex-Java expansions intensively, Tsel could maintain its legacy revenue while growing data business at the same time. As digital adoption accelerates throughout the country, in some part thanks to smaller telcos expansions, Tsel currently suffers the highest revenue decline from legacy services. Furthermore, its relatively low data engagement compared to peers and some market share losses resulting in slower revenue growth. This situation is exacerbated in 2020. As Covid-19 struck, economy deteriorated and people's purchasing power shrank materially, especially those in the lower income bracket. This situation triggered people to rationalize spending; telcos spending was no exception. Downtrading trend occurred during this period, driving telcos to switch away from Tsel. This is reflected in Tsel's declining revenue market share and data traffic market share from 2019 until 1H20. In Jul/Aug-20, Tsel launched 'Unlimited Max' to fight back.
Exhibit 50: Estimated Java market share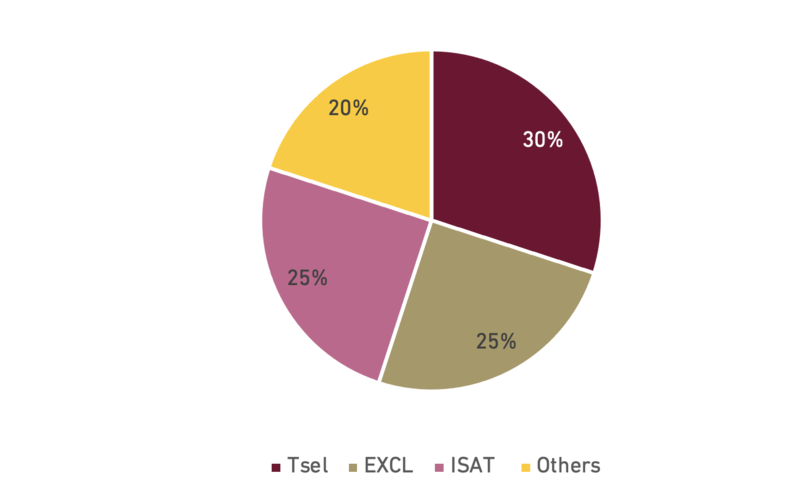 Source : Companies, Ciptadana
Exhibit 51: Estimated ex-Java market share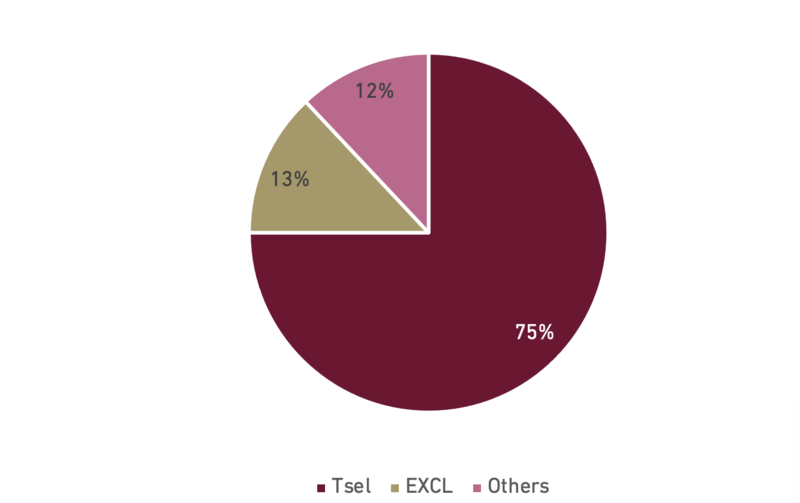 Source : Companies, Ciptadana
… but competition has been stabilized of late
Post the launching of 'Unlimited Max', Tsel managed to regain back some shares. Its data traffic market share picked-up from 48% in 2Q20 to 51% in 2Q21 and its data+digital revenue started to record positive growth of 4.4% QoQ/6.2% YoY. Since then, competition has been stabilizing. Tsel implemented FUP to some of its unlimited package and raised its tariffs in Apr/May-21, and we do not see significant retaliation from smaller telco operators. Another positive sign is that EXCL successfully raised its flagship 'Xtra Combo Plus' tariffs by 7-11% to Rp59K/89K in Aug/Sep-21. This move also have not faced any hostile counters from competitors. ISAT and FREN retained most of their packages. H3I did offer some discounts in Aug-21 (valid until Dec-21) for its 9GB (10-day validity) and 52GB (1-month validity) package but we think the impacts will not be too significant. Tsel also increased its base quota allowance by 33-50% for its entry level Unlimited Max package in Aug/Sep-21, but we do not see this as a dial-back step from Tsel as Tsel maintained its absolute prices of the package. We see this as Tsel effort to adjusting values for its subscribers to moving closer to the competitors' offers, but not undercutting them. So far, we believe the competition has been more rational and we expect this to translate to decent growth for industry in 2H21F. For 2022F, with ISAT-H3I merger, we also expect competition level to be at least at similar level to 2021F, if not better. We forecast mid-single-digit mobile revenue growth for 2022F.
Data traffic to pricing sensitivity has also stabilized
We analyse Tsel-to-EXCL data traffic multiple and found that it is strongly correlated to Tsel's data yield premium over EXCL. The downtrading trend is apparent in 1Q20-3Q20 where other operators cutting tariffs to gain traffics leadership. The data also revealed that the subscribers have been less price sensitive in 1Q21-2Q21 as indicated by Tsel's ability to regain back traffic share from competitors while maintaining pricing/data yield premium. The relationship is somewhat similar in Tsel-ISAT, despite pre-2020 ISAT was gaining traffic shares due to its ex-Java expansion. Price-traffic elasticity among Tsel-ISAT subscribers have also stabilized in 1Q21-2Q21, supporting similar conclusion that subscribers' sensitivity to pricing have return to normal of late, enabling better monetization especially for those who have network superiority.
Exhibit 52: Tsel-to-EXCL Data Traffic Multiplier vs. Yield Premium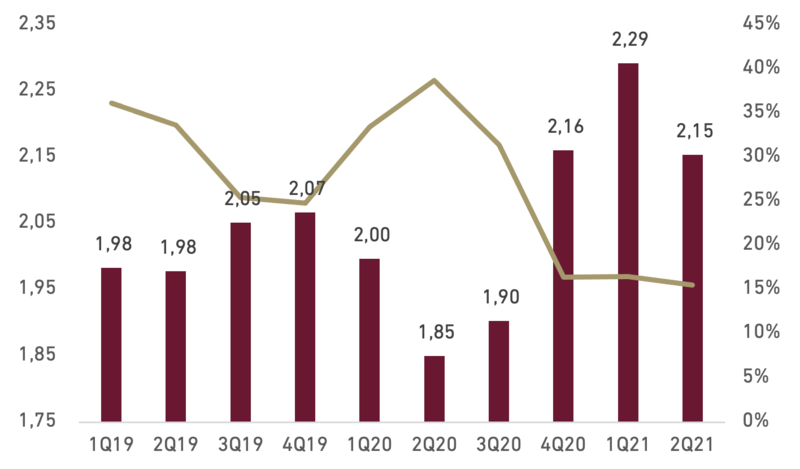 Source : Companies, Ciptadana
Exhibit 53: Tsel-to-ISAT Data Traffic Multiplier vs. Yield Premium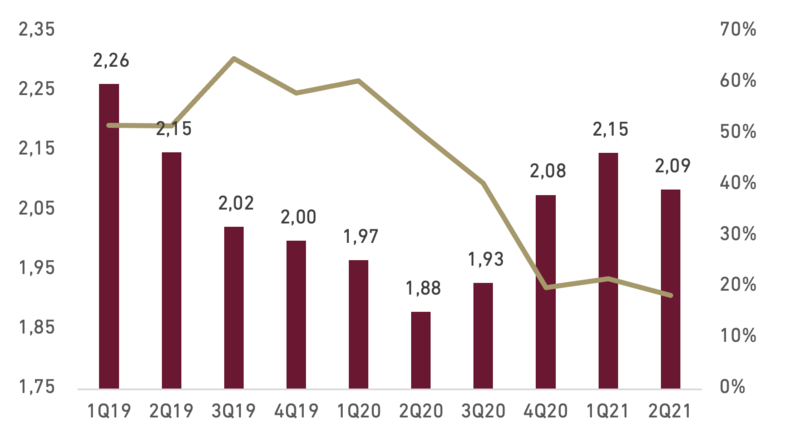 Source : Companies, Ciptadana
Exhibit 54: Data Traffic and Revenue Movement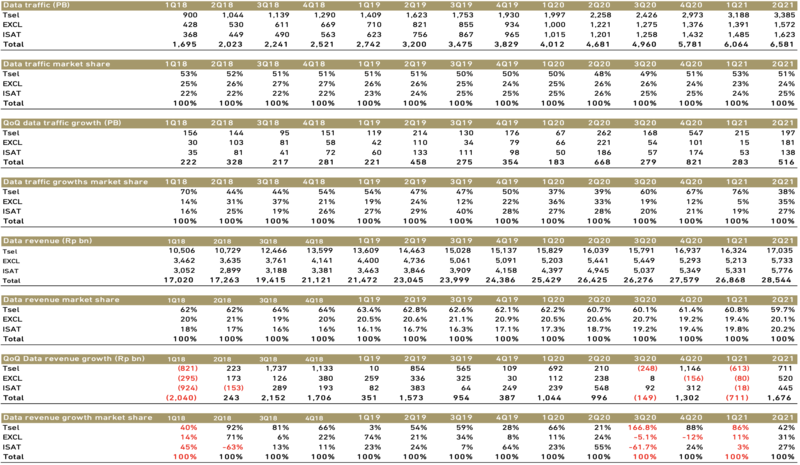 Source : Companies, Ciptadana
Tsel's network is still the best but gaps are narrowing
Based on the latest OpenSignal report, we observe that telcos have been investing adequately to maintain/improve their network performance. Tsel's network improvements, however, are lagging peers due to its unlimited data package and its aspiration to regain traffic market share, we believe. We saw significant improvement in ISAT and H3I, which is also one of the reasons of ISAT's strong financial improvement of late, we believe. It is also noteworthy that FREN's 4G download speed lag peers significantly and despite it was improving in Jul-21 stats, but its deficit to peers are still large. As FREN continues with its unlimited data plan and MiFi products, we believe FREN's network capacity will continue to be under pressure. We expect telcos will continue with their capex spending going forward to maintain their networks quality. Plenty spectrum auctions on the horizon will also help with network quality improvement. We believe under-investing is not an option for telcos as continuous network quality deterioration may result in revenue loss as reflected in ISAT's case before its sizeable capex cycle in 2018-2020. Fortunately, telcos are currently in better position vs. previously. And as we have argued previously, ISAT-H3I merger will help for capex efficiency and this is a good reason for EXCL-FREN to consider merger.
Exhibit 55: Reported Capex (in Rp tn)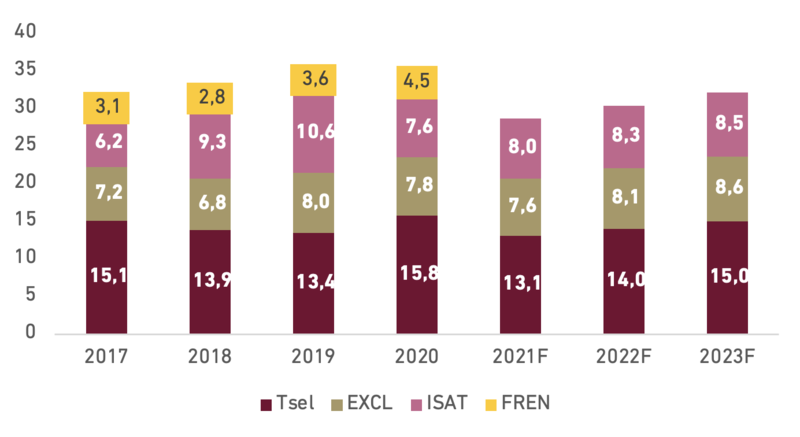 Source : OpenSignal, Ciptadana
Exhibit 57: Video Experience (score from 0 to 100)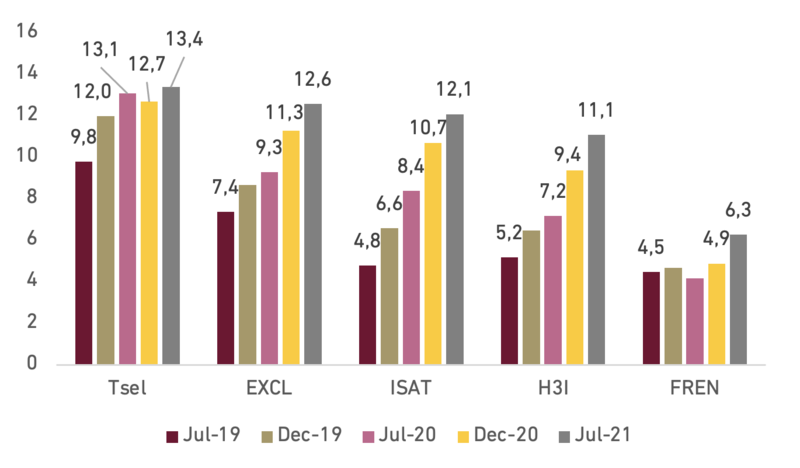 ​
Source : OpenSignal, Ciptadana
Exhibit 57: Video Experience (score from 0 to 100)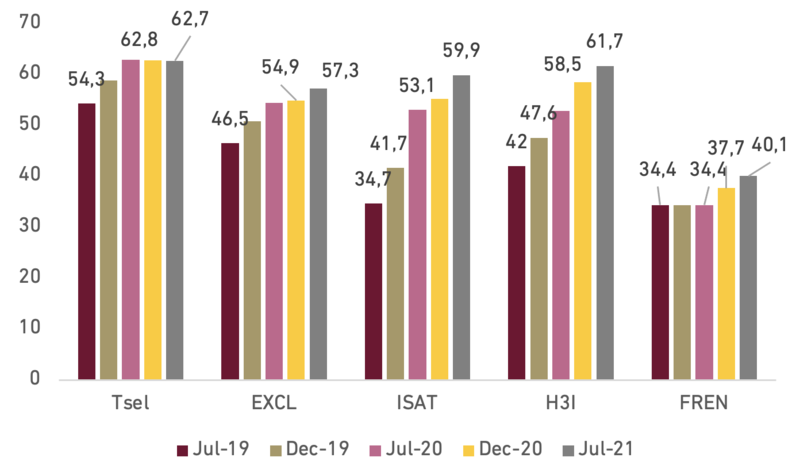 Source: OpenSignal, Ciptadana
5G is just a hype for now
The rollout of 5G networks in Indonesia might take years to materialize. There are a lot of things to prepare, including the network design and architecture, technological aspect, infrastructure upgrade, use case development, and regulatory issue. From spectrum perspective, we believe it requires a few more years before adequate 5G spectrum could be available. Rolling-out 5G nationwide would require a broad range of spectrum, spanning from the low-, mid-, and high- band spectrum to achieve the balance of capacity and coverage. However, those spectrums are not readily available at the moment. The ideal low band spectrum (700 MHz) is currently utilized for analogue TV. This could only be freed-up after the process of analogue switch-off (ASO) has been completed. The Government targets ASO to complete by 4Q22F, though the spectrum might be auctioned out earlier. Meanwhile the high band of 3.5GHz is currently used for satellite services in Indonesia, including Telkom, and BRI Satellite. The contract expiry for those satellite vary but they run a long term contract until 2031-2034. We believe it would require a lot of efforts and negotiation time to clean up and optimally utilize the 3.5GHz for 5G rollout. While the mid band spectrum, currently the 2.6GHz is already awarded to IPTV to run its DTH TV service under Indovision brand. The spectrum rights will expire in 2024.
OVEWEIGHT rating on the sector with TLKM and EXCL as our top pick
At the moment, we rate all telcos BUY. As the industry is consolidating, we expect to see revenue growth/profitability improvement from the sector. We like all telcos but there are different ways to play them. We think ISAT has the strongest short-term catalysts. Before the merged company go live, ISAT will distribute some of its gains from tower sales as special dividend, potentially yielding 10-15% on current share price. ISAT is also recently turning into profitable company and has just achieved the required operating scale. Its earnings will be the most sensitive to top-line growth. We like TLKM and EXCL as the bystanders of the ISAT-H3I M&A in 2022F. We expect revenue recovery in TLKM's Tsel and continuous strong growth from IndiHome. We also view TLKM's plan to unlock value from its subsidiary and digital assets as potential kicker for TLKM's share price. We like EXCL as we see decent growth and potential fixed broadband growth acceleration post LINK acquisition.
Exhibit 58: Telecom stocks rating and valuation