Property Overweight
Sector Outlook
Coronavirus huge impact on property market
The coronavirus pandemic has a huge impact on property markets around the world. With the massive unemployment, wage cuts, business failures, and job uncertainty, many people are likely to be cautious about making big investments such as home purchase which leads to falling house prices.
Exhibit 111 : Residential price index growth based on size (% YoY)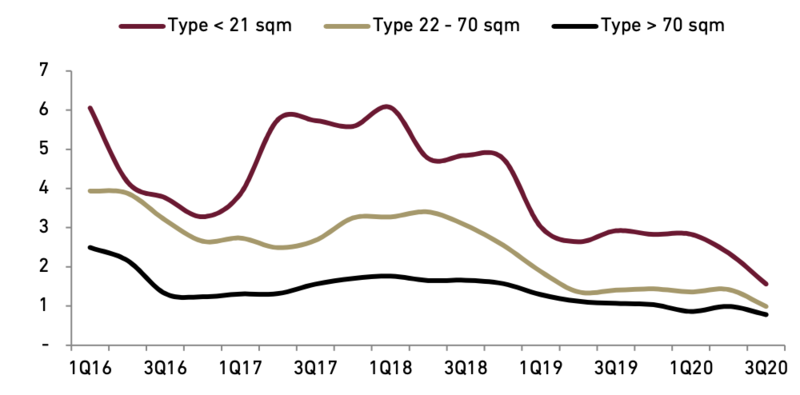 Source : BI
Despite the grim short term prospect, we believe by year 2021 the current situation will stabilize as it is not a typical economic downturn. As lockdown restrictions continue to be lifted, economies and housing markets will rebound. There are also other forces at work on the property sector. The popularity of work from home as alternative to conventional commute to/from office will have influence on the market.
Property market to bounce back next year
While house sales were slow in 2020 due to the Covid-19 pandemic, some consumers are merely delaying purchase and planning to buy house by next year. We believe consumers are currently saving money to maintain personal financial stability amid the pandemic that affected the country's economy. Affordable house segment will still be attractive especially for end user.
Exhibit 112 : Consolidated annual marketing sales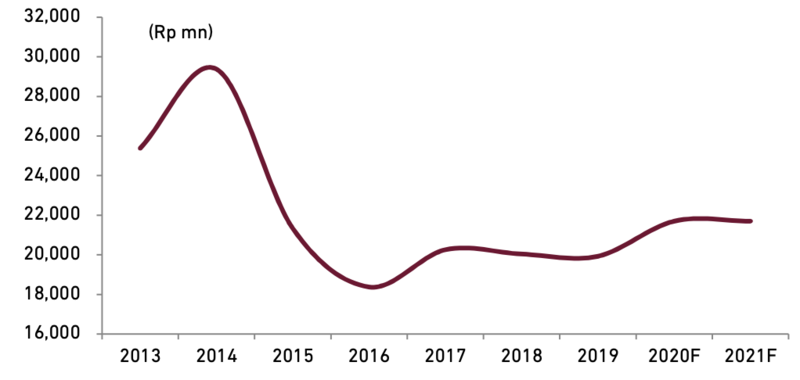 *ASRI, BSDE, DILD, LPKR, PWON and SMRA
Source : Company and Ciptadana Estimates
Though the future demands may not look strong however we expect home purchase to bounce back in 2021 as customers plan to buy property. We anticipate the current situation to have implications for the pricing strategy for residential property sellers and developers. According to Bank Indonesia, the combined sales of small, medium and large houses contracted by -25.60% YoY in 2Q20 which an improvement from -43.19% YoY in previous quarter due to the unfolding pandemic. We believe customers were still buying houses during the pandemic which signaling remaining demands despite the economic downturn.
Apartments more sensitive to BI rate changes
Over the years, we have seen resilience demand especially on landed house segment which less affected by changes in mortgage rates. However, bank loan for apartment purchases were greatly influenced by lower/higher rates. The lower interest rate will be a positive catalyst for companies with large exposure to high-rise residential, such as SMRA, PWON, and DILD.
Exhibit 113 : Mortgage YoY growth vs BI rate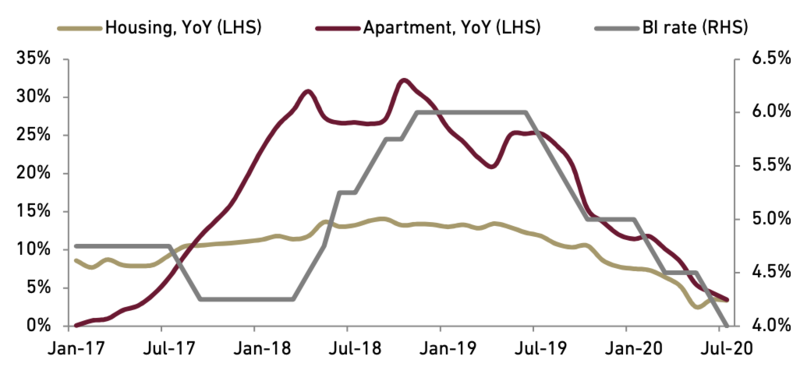 Source : BI
Though bricks and mortar stores are becoming more and more unpopular and regarded as outdated, we believe that retail space sector has over the years proved to be remarkably flexible. Over time the use of land and buildings can change, and often it does so remarkably quickly. For example in US and European countries, plenty shops are now turned into flats, old factories are now hotels and warehouses became dance studios. The coronavirus pandemic may be a massive shock to property markets, but it may well just speed up changes that are already taking place.
Office market shifts post-pandemic
We believe office property market will have to adapt post-pandemic. Indonesia's office property market (especially in two largest cities: Jakarta and Surabaya) has been matching the supply and demand for a long period of time with rental prices continue to rise. These rapidly changing times will become the game changer.
We believe that even if the price of property falls, it may still be a wise investment. Note that property is a long-term investment, and not many other instruments are both secure and pay a good return. Compared to government bonds which are now paying 5%-6% interest a year, property could also making similar annual interest with addition of capital gain in line with rising property price.
Exhibit 114 : JAKPROP index vs. 7-day RR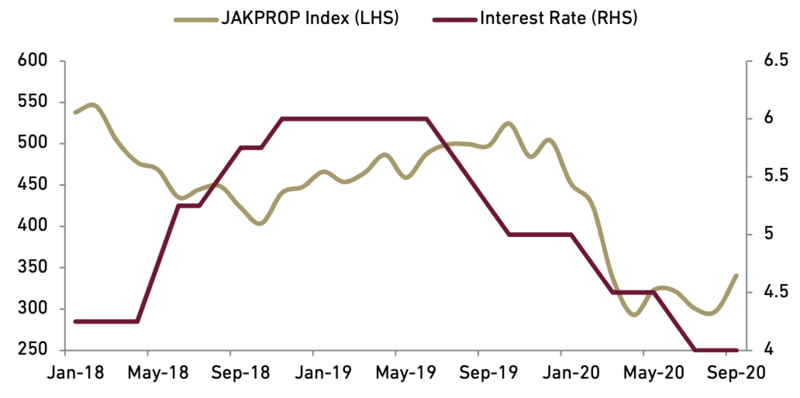 Source : Bloomberg
Rental drop as more office space supplies in 2021
After slowing down in 2020, new office space supplies ramp up in 2021. According to Colliers International, there will be a total of 514k sqm of newly available office space in 2021, almost doubled compared with new office space scheduled to complete by 2020.
Unfortunately, the abundance of supplies combine with sluggish demand post-pandemic will pin down office segment prospect for the year.
We believe average rent in the CBD will drop in 2021. Landlords will face a challenging situation in adjusting rent amidst the anticipated slow absorption in 2021. Most future office buildings that planned to operate in 2021 will offer rent lower than the market price.
Exhibit 115 : New office space supply in 2021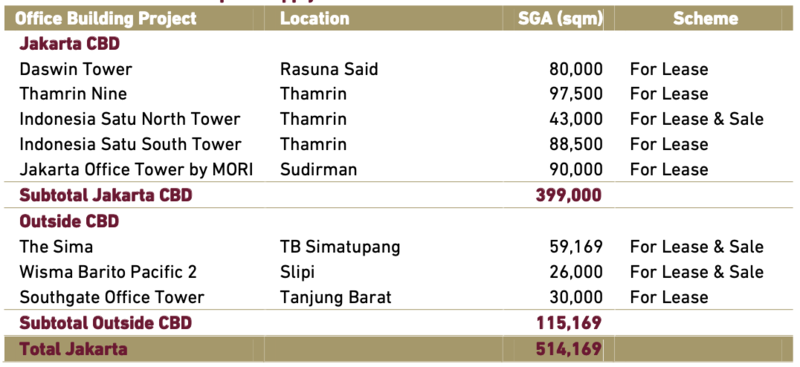 Source : Colliers International
Omnibus law benefits property sector
Omnibus law is expected to increase Indonesia's Foreign Direct Investment (FDI), Foreigners can own apartments worth above Rp3 bn with KITAS which we believe it has enough legal power to allow foreign ownership in condos The law also requires large manufacturing activities to be located within industrial estates and 7We see that this opportunity will be able to provide positive sentiment for industrial estate developer, such as BEST and SSIA.
Indonesian property drew more real FDI in real estate sector within 1H20 compared to 1H19, increased significantly by 54.8% YoY. The surge in 2020 real estate FDI is contrary to total FDI growth which decreased -30.5% YoY. Therefore the contribution of real estate FDI to total FDI expanded to 12% by end of June 2020 from only 5% in similar period of 2019. This could be a positive note especially for industrial land sector.
Exhibit 116 : Indonesia's real estate FDI and total FDI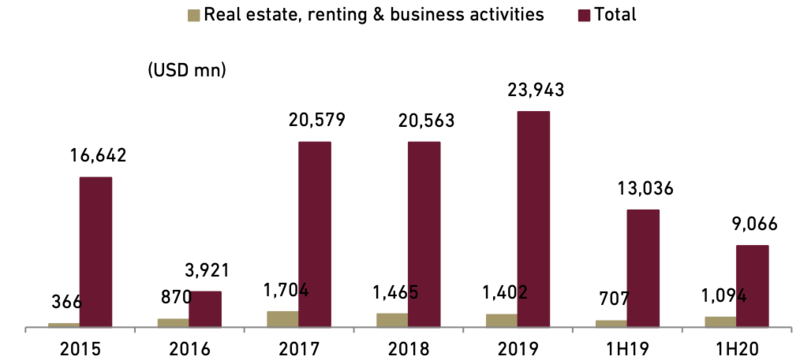 Source: BI
We see several positive catalysts for property sector in 2021 hence we maintain our OVERWEIGHT recommendation. Based on our valuation, property stocks are mostly undervalued with more than 70% discount to NAV. Our top picks in residential segment include LPKR and SMRA while for industrial estates are BEST and SSIA.
Exhibit 117 : Property stock rating and valuation