Plantation Overweight
Sector Outlook
Stable inventory amidst pandemic's pressure
As B30 mandatory came to effect in Indonesia, we saw CPO price surpassed RM3,000/ton in the beginning of 2020. However, according to the Ministry of Energy and Mineral Resources (ESDM), the usage of FAME declined by 13% in 1Q20 due to the pandemic. Pertamina then adjusted supply of FAME, but palm oil production in Indonesia is expected to remain steady at around 42 mn tons in 2020. In the short term there will be a higher supply and lower prices due to the current situation surrounding the Coronavirus.
Exhibit 104: Indonesia palm oil statistics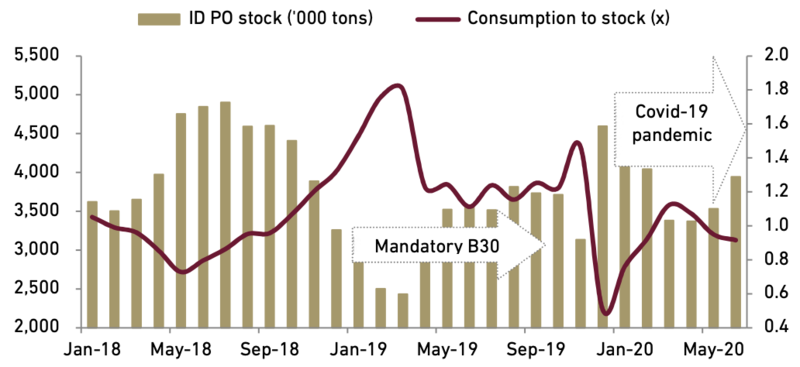 Source : GAPKI, Ciptadana Estimates
Fortunately, Exhibit 104 shows that even during the pandemic, Indonesia's monthly palm oil stocks remain stable at below 4.0 mn tons level. Therefore we expect with stable production and growing demand ahead, CPO price will stay at average RM2,500/ton or equal to USD600/ton in 2021.
Stable CPO price next year
The price of CPO is likely to average at RM2,500/ton in 2021, unchanged from our 2020F of RM2,500/ton. The biodiesel mandates implemented in Indonesia and Malaysia are expected to be able to mitigate the impact of slower global demand post-pandemic. In addition to biodiesel mandates, Chinese and Indian demand for palm oil is also expected to rise due to competitive CPO prices against substitute oils.
Exhibit 105: Malaysia palm oil statistics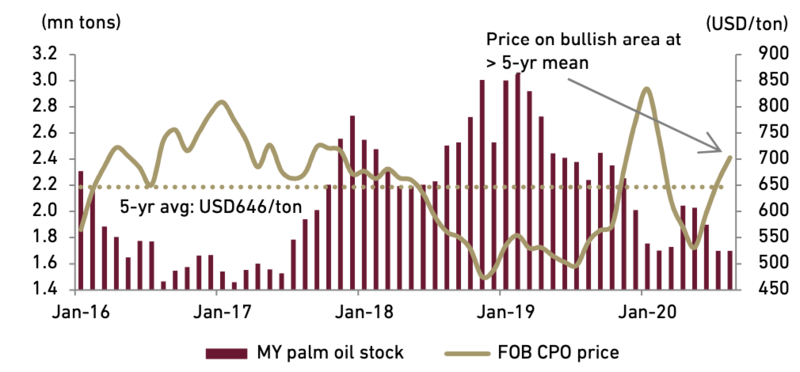 Source : MPOB, Oil World, Ciptadana Estimates
In Exhibit 105 we see that as Malaysia's inventory climbed, conversely CPO price went downhill. Currently, CPO price is already on bullish area and we see limited catalyst to maintain the hike. We projected 0% YoY increase in global CPO price for 2021 with the assumption of: (1) threat of covid-19 subsides (2) gradual improvement in CPO demand, and (3) continuation of B30 initiatives.
Soybean oil: favourable low price
We keep track on soybean oil trade, the closest substitute of palm oil. We expect to see relatively low, favorable, soybean oil prices continuing. Amid ample US and world supplies, the average soybean futures level in 2Q20 was near the lowest seen in the last decade.
Steadily increasing use of soybean oil for biodiesel manufacture in recent years has helped underpin soybean oil prices. Despite a slow couple of months because of the coronavirus pandemic reducing the fuel consumption, biodiesel production was on the rise again. Bottom line, soybean oil supplies should be larger in the coming year compared with 2020, and prices should remain under pressure.
Exhibit 106 : CPO price discount to Soybean oil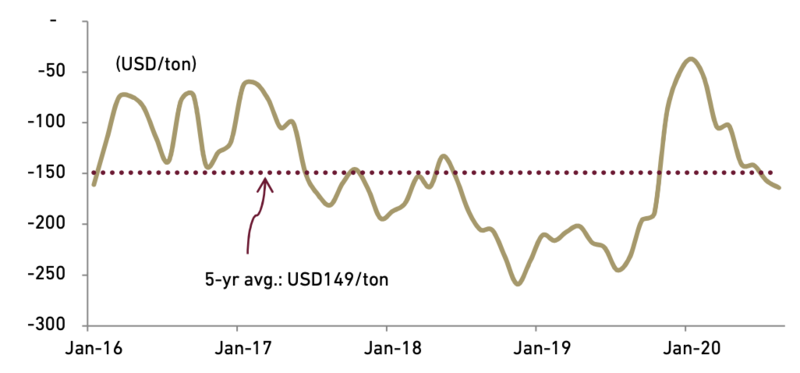 Source : Oil World, Ciptadana Securities
Expect narrower premium gap between CPO vs. soybean oil
The price of soybean oil has been relatively stable in the last five years, while CPO experienced a recent uptrend. As a result, by August 2020 the discount of CPO to soybean oil price widened to USD164/ton which is larger compared to last five-years average discount of USD149/ton. With soybean oil price as a proxy for CPO price ceiling, we believe we will not see a significant hike in CPO price in 2021.
Meanwhile, CPO price premium to Brent oil narrowed to USD99/ton in August or USD110/ton cheaper than its historical 5 year average of USD209/ton. As we placed soybean oil as proxy for the CPO price ceiling and Brent oil as the floor price, we believe the current condition justified our moderate expectation of flat CPO price in 2021.
Exhibit 107 : Historical price of soybean oil, CPO, and Brent oil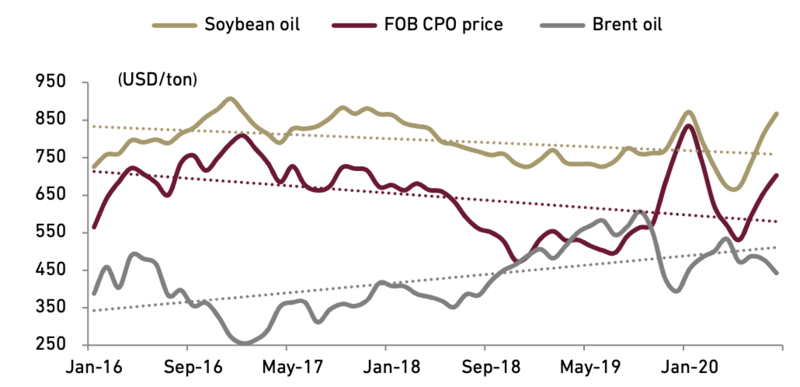 Source : Bloomberg, MPOB
There is a possibility that fossil fuel industry could further suffer due to the effect of pandemic. It is certain from these past few months that less fossil fuels being used means more breathable air. While palm oil biodiesel is not carbon-neutral, it has significantly less carbon emissions than conventional diesel.
President Joko Widodo has announced a mandatory B50 by early 2021. Later the state owned biodiesel distributor, Pertamina, stated issues in lack of research, testing, and compatibility with machinery. While these are all valid concerns, the funding that should be given to ensure that Indonesia is ready for a biodiesel future will pale in comparison to the costs that will arise from not phasing out fossil fuels before it is too late.
Plantation stocks have been undervalued
We believe at current prices most of the palm oil based company stocks under our universe are undervalued and offer significant upsides. Looking into their blended PE band in Exhibit 108, at present the stocks are attractively trading ataround 25% discount to the 5 year mean blended PE of 23.9x.
Exhibit 108 : Plantation sector* forward PER band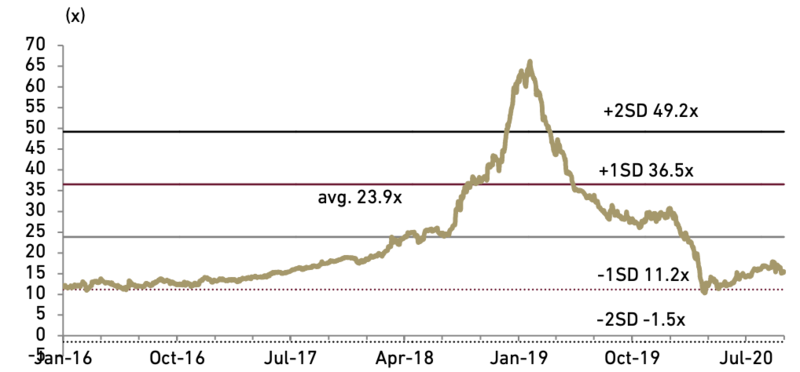 * AALI, DSNG, LSIP, SIMP and TBLA
Source : Bloomberg, Ciptadana Estimates
Markets for Indonesian palm oil exports
Currently the main obstacle facing the palm oil industry is the Covid-19 pandemic, which has decreased the exports of CPO and derivative products in a number of foreign countries. The Indonesian palm oil exports decreased during the first few months in 2020 after experienced an increase in volume and value on similar period in 2019.
Note that the performance of Indonesia's palm oil export to Indian market is still good in terms of volume and value. Conversely, exports to other major markets, such as China and Netherlands, saw a decrease.
To anticipate the decrease of palm oil exports, the government has been implementing the B30 which is also as part of strategic step to meet the target of renewable energy source. With the B30 program, the local absorption of CPO will increase and will be able to maintain the price at the expected level globally. Other policy includes eliminating price threshold in export tax mechanism and increasing the average export levy by USD5/ton.
Exhibit 109 : Indonesia's palm oil export volume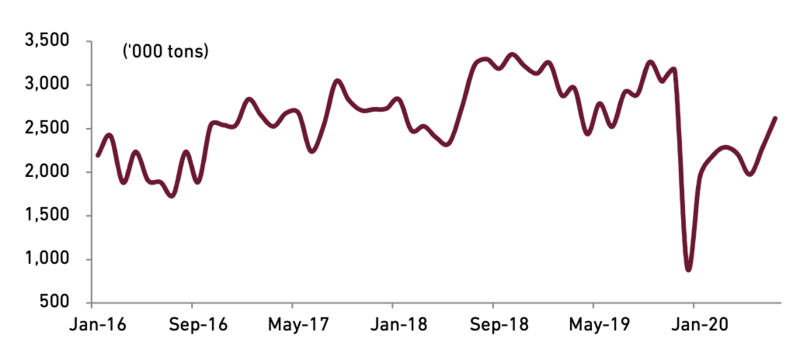 Source : GAPKI
We maintain OVERWEIGHT on plantation sector with our top picks include AALI and TBLA. In term of production growth, AALI showed stable FFB yield each year while continued to improve their age profile through steady rate of replanting.We also believe TBLA as one of FAME producers will be benefited from biodiesel blending expansion.
Exhibit 110 : Plantation stock rating and valuation